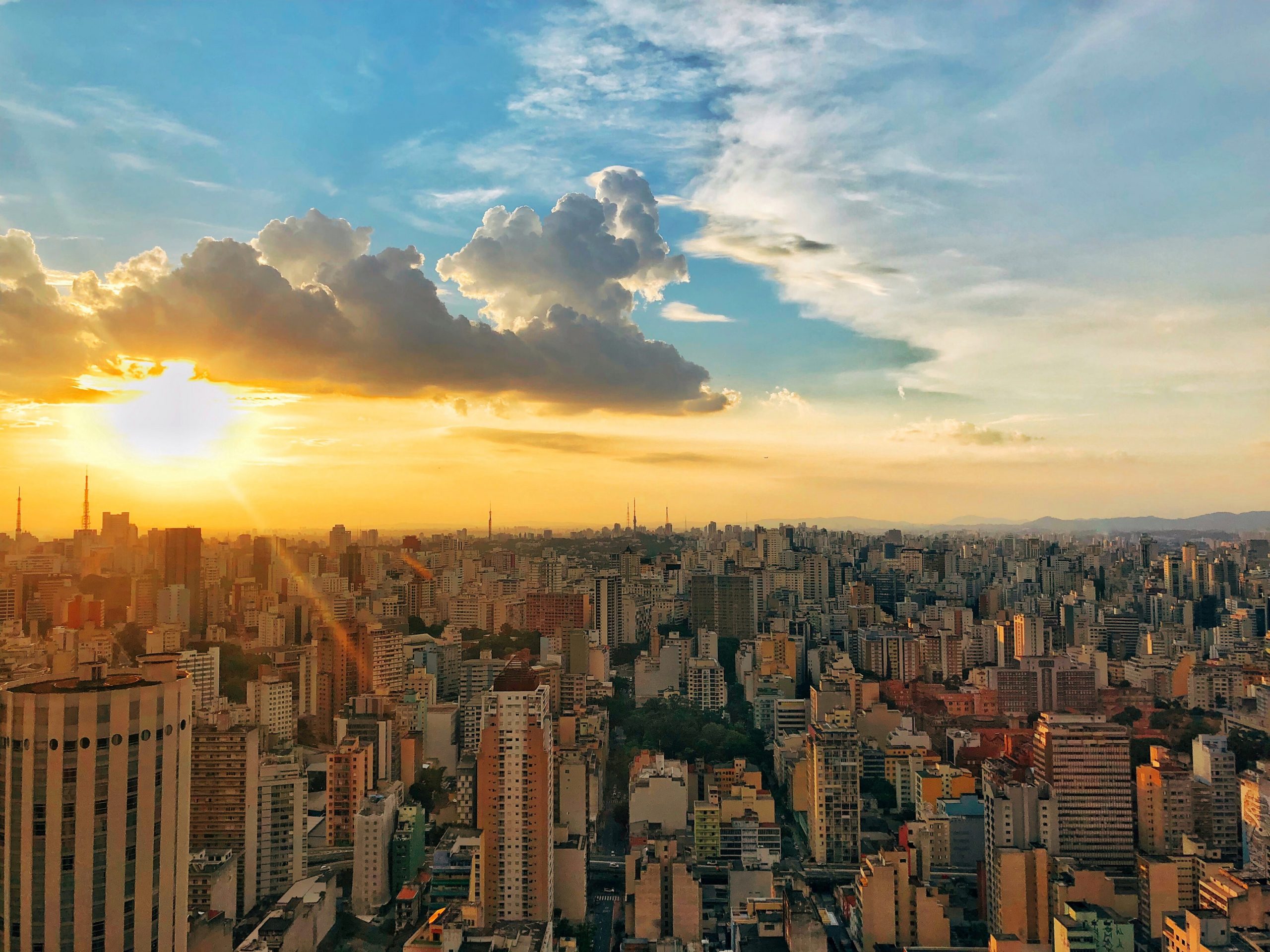 São Paulo is indisputably the best city of Brazil. It has absolutely everything you need. The concrete megalopolis didn't receive its name by chance. Wherever you look there is a wild jungle of buildings. Beyond that São Paulo offers the best of food, music and art. Some would argue that this spot is already taken by Rio de Janeiro but trust us when we say that São Paulo is the right place where the Brazilian culture is.
That's why we chose the 5 most stunning photo locations for you in the city. Also, make sure you use local #hashtags like #EuVivoSP #spdagaroa #igerssp #amosaopaulo #serpaulistano #almapaulista #mybeautifulsp #saopaulocity #InstasDeSP #instasampa #olharesdesampa #terradagaroa . They will help you to get notice. We also recommend to follow the best insta profile about the city @saopaulocity so you can take inspiration for any future posts from this acc too.
1. Terraço Itália
Very famous restaurant at the top of the Edificio Italia. we heard about this place from so many people that we had to try. If you want to imagine the whole scale of the city , you will get a good idea here because Edificio Italia is the 2nd tallest building in São Paulo.
We haven't eaten in the restaurant yet (prices are too high) but we definitely recommend you to have at least a drink or two at the piano bar and enjoy the stunning views all around. Make sure you are sitting at the window. The best time to be there is around sunset so you should also sit on the west side of the bar. It is breathtaking!
We didn't book anything in advance and we were the lucky ones! There were still some places to sit but if you want to double check the availability, you can make your reservation on the following link: https://www.terracoitalia.com.br/reservas
2. Beco do Batman
We love street art. It can be a bit controversial but it also encourages the freedom of expression. In São Paulo you will have one of top experiences. Street art is ubiquitous in the city. You will see once you arrive. São Paulo usually shines in gray but there are countless buildings with an unique style created by graffitis. Some of them drawn by well known artists like Rui Amaral or Eduardo Kobra and many others.
Beco do Battman is definitely the most famous street after Avenida Paulista. It was created by artists for teasing graffitis. Being located in the most popular and trendiest neighborhood Vila Madalena it has everything from bars, nightclubs to galleries.
If you are wondering about the name, why Beco do Batman. The street received it according to the graffiti of the DC Comics Batman painted in 80s.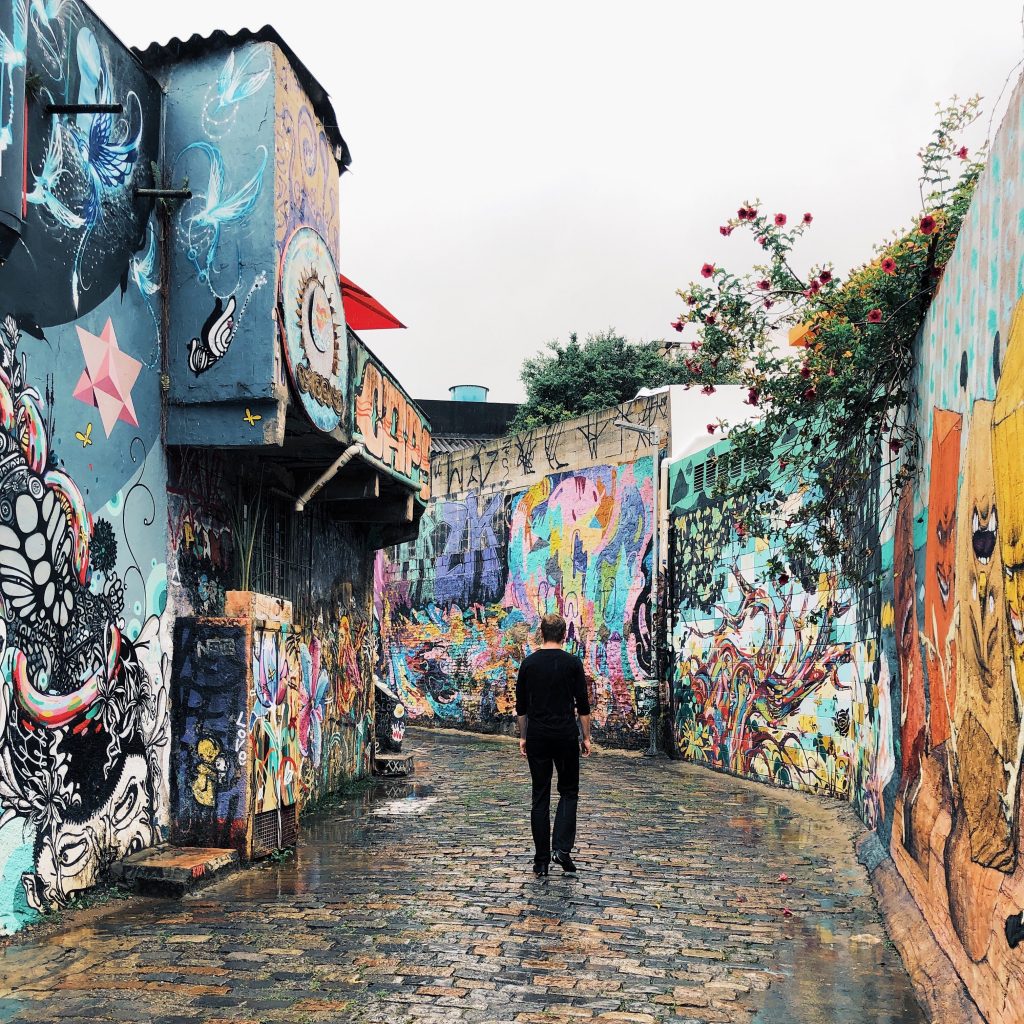 3. Paulista Avenue
Our favorite place in São Paulo. The Avenida Paulista is a modern heart of São Paulo. It is the single most important location for many Brazilians. It has a lot of cultural significance for many Brazilians because a lot of events are happening here including the end of year. During Sundays the busy avenue is closed and you can freely walk without any cars. It is the best time to visit for relax.
Though if you are looking for some interesting photos of the street from above. It is better to visit the Paulista avenue during working days when there are not many people around sights. The best view point of the avenue is located at Sesc Avenida Paulista where you can have a cup of coffee and watch the sunset over the street and get the best photos.
4. Parque Estadual da Cantareira – Núcleo Pedra Grande
The Parque Estadual da Cantareira is quite far away from the city center but it is worth visiting. It is always nice to have a break from the rush to clear your mind and relax. The park even offers to do some hikes. You just have to pay R$ 9,00 (2 USD) to get in. Make sure you have enough cash because they don't accept credit cards (they don't have any payment terminal). Also, the park opens only during weekends and it closes at 5 pm but after 3pm they already won't let you in so it is the best to come in the morning.
The best location to take your picture is called Núcleo Pedra Grande. "The Great Stone" is a small trek in the park. It is not so difficult and it took us an hour or so to get to the Great Stone and then an hour to get back to the car. It is a nice walk uphill. You will have a nice cardio exercise going up to 848 meters.
The stone itself is just a stone but there is an incredible view of the city São Paulo on top of it. The Great Stone is a wonderful place to hang out. Don't forget to take water with you as there is nothing during the way.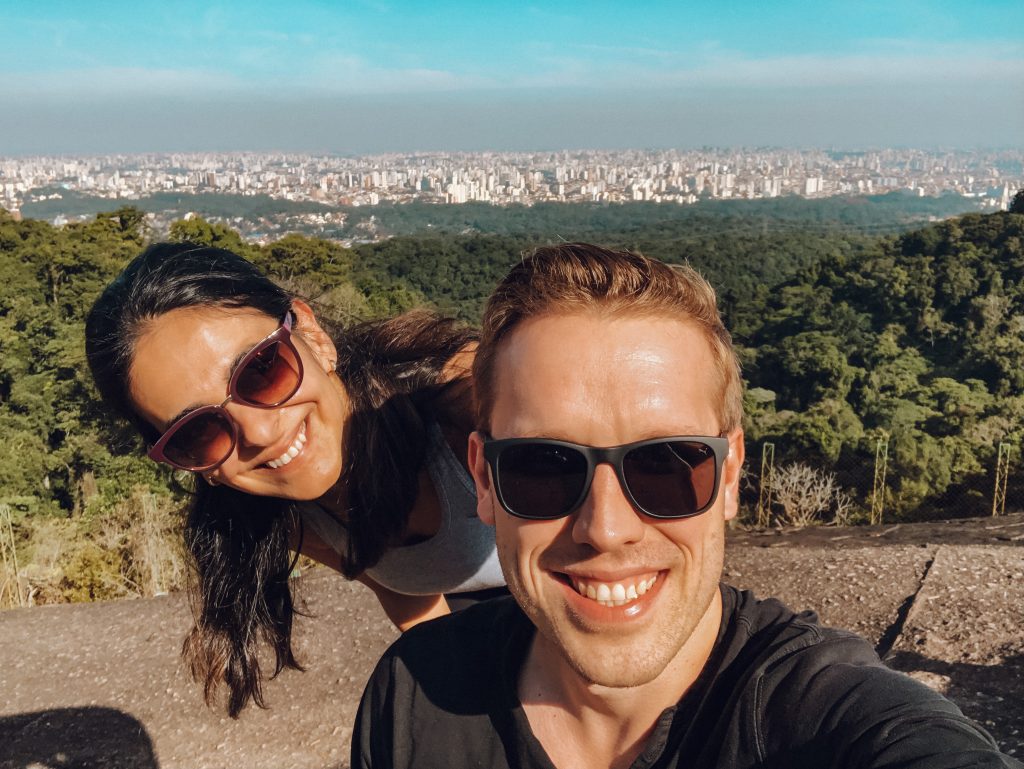 5. Pico do Jaraguá
We wouldn't miss our Pico do Jaraguá where we did our first trek together back in 2017. It is yet another great spot for the astonishing view of the city. It is a nice hike and you will almost feel like leaving the city jungle. Back then there were still the small monkeys called "macaques" but since some problems we heard they got rid of them.
In comparison with the Núcleo Pedra Grande, the entrance is free of charge and you will see more animals around. The whole area is less organized but still decent for nice hikes. Once you reach the antennas you will see how big São Paulo is. Huuuuuge! The hike took us a half day with getting to the starting point by car. If you are not much into hikes and trekking , you can drive to the top. Just don't forget to walk to the antennas. A lot of people stop at the viewpoint and they don't go further along the road.