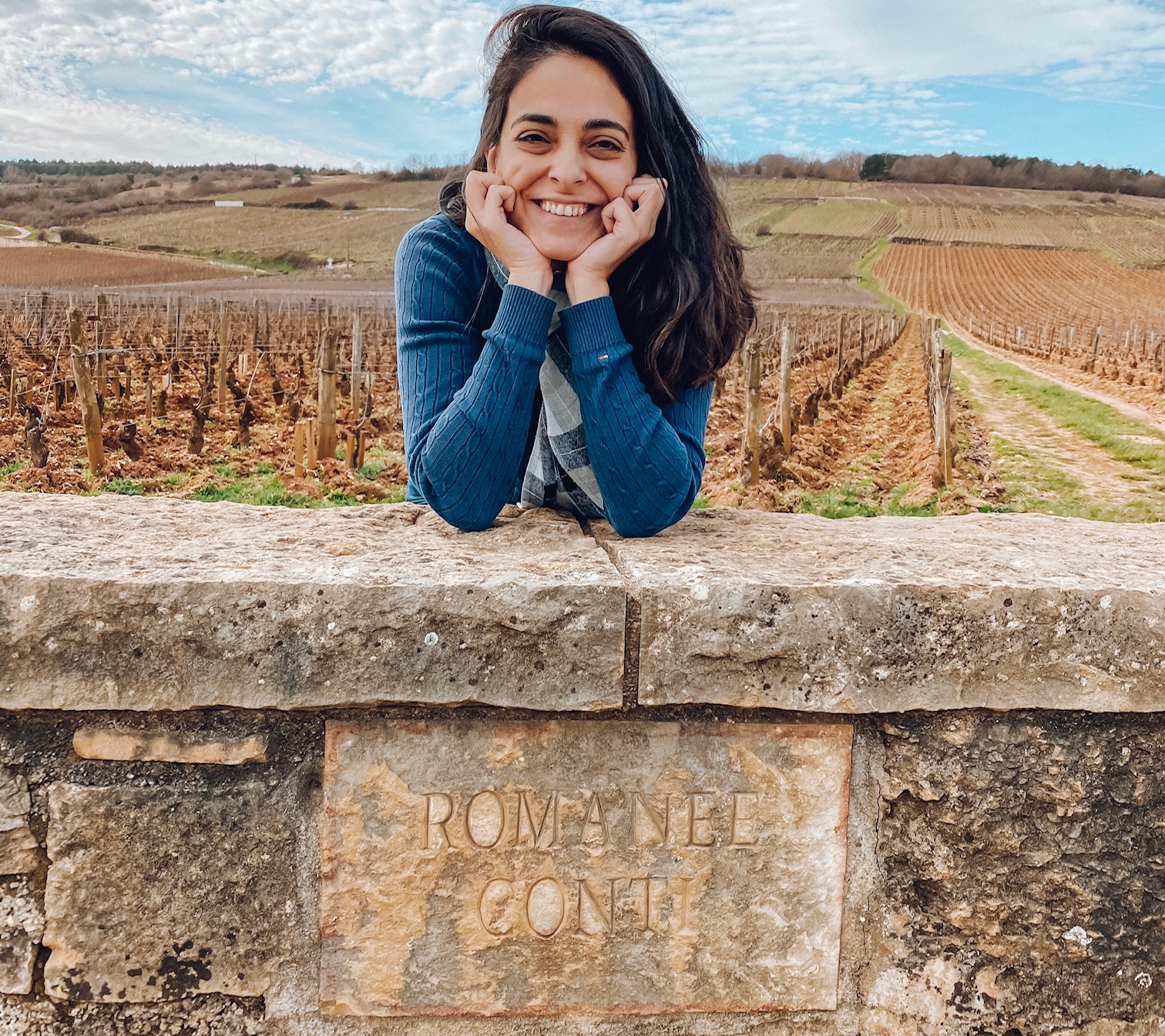 Trip Planning
There are two most amazing places for wines in the world. The first place lies in beautiful Tuscany in Italy where ancient history with wines goes back more than thousand years and the second one definitely belongs to the French region of Burgundy. We did not have to think twice to decide going to Burgundy because we have been already to Tuscany last year. You can read our experience with Tuscany in the ultimate one-week Italy road trip post.
We just had a slight problem as usual! We had available only one day to see everything. It was tough but at the end we nailed it so perfectly that we decided to share it with you. Oh and by the way, Burgundy is around 300 km away from Paris and there is no direct public transportation to this region from the capital from where we started our trip.
For this adventure we booked a car with Álamo rental cars at the Charles de Gauller airport (it can be paid in your country, so you don't have to spend extra money with international taxes) and as we were with very low budget, we chose the cutest car ever and they surprised us with a brand new Fiat 500! We never imagined driving an Italian car in France. We have to say that the car was really cool and it had absolutely the least fuel consumption of all. One thing you have to keep in mind is that, even if you are paying for the rental previously, they will require a valid international credit card in loco, just in case there's an accident or an extra charge.
As we drove from Paris we took the route Via-A6 to Beaune in Burgundy where we booked our hotel. The road was extremely well maintained highway (to compensate for the high toll prices), very easy to drive.
It took us 3 hours to arrive to our hotel – the chateau Saint-Michel. We left our things there, and then we planned some last minute changes to our trip because we already arrived in the evening. For this reason, we only went for dinner, in a really special restaurant!
The next day, we had booked one wine tasting at Chateau de Pommard in Beaune.
The Costs
France is definitely not the cheapest place to visit and, as the currency in Brazil is having bad days, this trip was even more expensive.
We spent 68 euros with the car, plus gasoline, which was around 100 euros.
One night at the chateau Saint-Michel was 100 Euros. Ok, it was a luxury place and we almost felt like a king and a queen arriving to our palace, but you know, we love castles and chateaus so we did not mind to spend more! The biggest expense yet to come though, ha ha ha.
The dinner for two with true French champagne and wine in the Michelin star restaurant Ed.Em was 250 euros. That's a lot but worth every penny for the experience!
Then the wine tasting at the chateau Pommard with a visit in the vineyard was 120 euros.
We also have to mention extra-costs with annoying road tolls, which we did not expect them being so expensive. It was about 60 euros.
Overall, we spent almost 600 Euros for one day in Burgundy, not bad, not bad for budget travellers who promised to each other to sleep in hostels only 😀 But it was for a good cause: to make a dream come true!
Explaining Burgundy In A Quick Way
The French Wine region of Burgundy is small, but incredible important because there they can produce really high quality wine.
Explaining the region is complex and even wine specialists may be afraid of speaking about it!
That's the region where we can find some of the most expensive wines in the known universe, but there are tasty and affordable wines too.
Because of its different "terroirs" (according to the website WineFolly: Terroir is the symbiosis of grapes, soil, climate, vineyard placement, and human touch, all rolled into one), Burgundy can be divided in 5 main areas, which are:
Chablis, Côte de Nuits (the main city is Dijon, where you can also find the famous moustard and most of the wine produced there is red wine – Pinot Noir), Côte de Beaune (famous for its white wine – Chardonnay), Côte Chalonnaise and Mâconnais. Côte de Nuits and Côte de Beaune are called Côte d'Or together or Golden Slope and they are considered the most important regions in Burgundy
The only easy concept in Burgundy is about the grapes which are cultivated there: only Pinot Noir (red wine) e Chardonnay (white wine).
The Accommodation
As previously said, we booked to stay a night in a chateau. This chateau was Château Saint-Michel, The Originals Relais, in Beaune and it was lovely.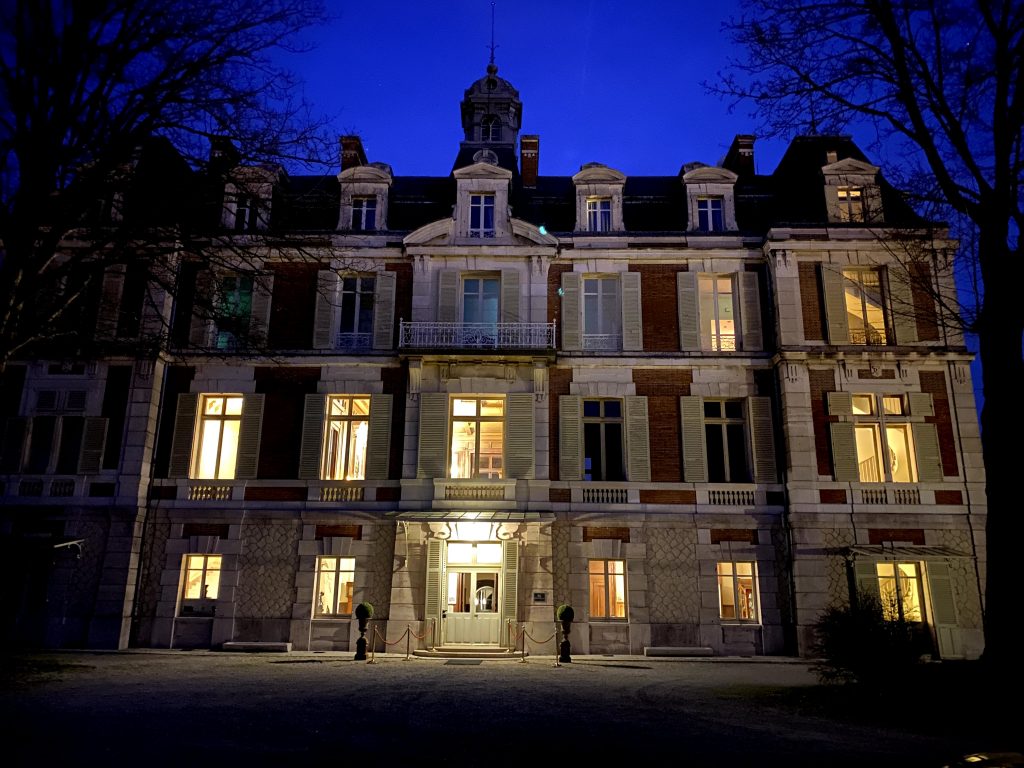 The old chateau is owned by Mark and Metha, two Dutch who just one day decided to buy one castle or two! They are also experts on wines and they can recommend you the best of the best from Burgundy. We got totally inspired! The idea of having a castle, casually drinking wines and earning money from hobby is really great. Well, who knows, maybe in the future! Mark and Metha were incredibly friendly and it's a pity we didn't have more time to talk to them over a glass of wine.
As we arrived in the evening, we were so hungry that Mark recommended us a local Michelin star restaurant. Only in France they have local Michelin star restaurants, ha ha.
Sleeping in the chateau was pretty neat. We felt like real gods with all that beauty around.
The following morning, they were waiting for us with fresh fruits and fresh orange juice, hand-made by Metha! What a delicacy!
The bedroom was big, with white and comfy bed sheets and a view to a small cute church, like from a fairy tale!
We had a little walk through the garden and we could even see that the chateau has its very own small vineyard, but, as it was winter, the grapes were sleepy sleep.
Unfortunately, we left the hotel early because of the wine tasting, but, if we return to Burgundy, we want to go there again, definitely! (even if it means to save a lot! :D)
The Dinner
For the dinner we took Mark's advice and went to the restaurant in Chassagne-Montrachet, which is a little town next to Beaune. The restaurant is really unique because it received a famous Michelin star in 2020, so it was advised to book in advance. We called them and we were lucky, they had exactly one table left just for us! Yaaay!
The restaurant was very cozy and warm. We even saw a table next to us with a dog! Next time we take one too. So nice! In Brazil we can't take our dogs to restaurants, and I don't understand why, since they behave in a better way than children.
The waitress was really receptive and she picked up a glass of champagne for us, which we readily accepted, because it was a celebration! And how delicious it was! The sensation of bubbles tickling your nose is unforgettable. We were so excited that we forgot to take a picture of the bottle, but I think it was Champagne Rémy Massin, brut tradition.
As meal, we went with a nice tasting menu so we could taste almost all of their plates, because we shared our food! 😉 The recipes were interesting and varied and the presentation was very elegant as is the custom in Michelin restaurants! They have excellent wines and a very friendly service!
And, when we arrived, as a snack, there was small foliage on the table, over a piece of rock, we thought it was only part of decoration, but it was eatable!
My meal choice was: a plate with veal tongue in scalloped garlic, other with a crispy sweetbread and gnocchi and a choice of fresh and ripened cheeses from the menu. To Matej, the choice was: this plate with veal tongue in scalloped garlic too, one with vegetables mousseline and choice of fresh and ripened cheeses from the menu. Matej doesn't like cheese, but we didn't understand their English very well which caused the error 😉 But I could definitely help him with these! The price for this menu with 3 courses plus a dessert was 65 euros each, expensive, but it is worth. Food is delicate, you feel that it's made with love like at home. And their courses are perfect to pair with Burgundian wine!
As you may have noticed, I was like in paradise there, with all those special bottles of wines! One particular caught my eye so I chose a Burgundian premier cru, made 100% with Pinot Noir to pair with the meal. It is my favorite grape for wines, because it is young, vivid, fresh and you can feel a smell and a taste of red fruits so intensively.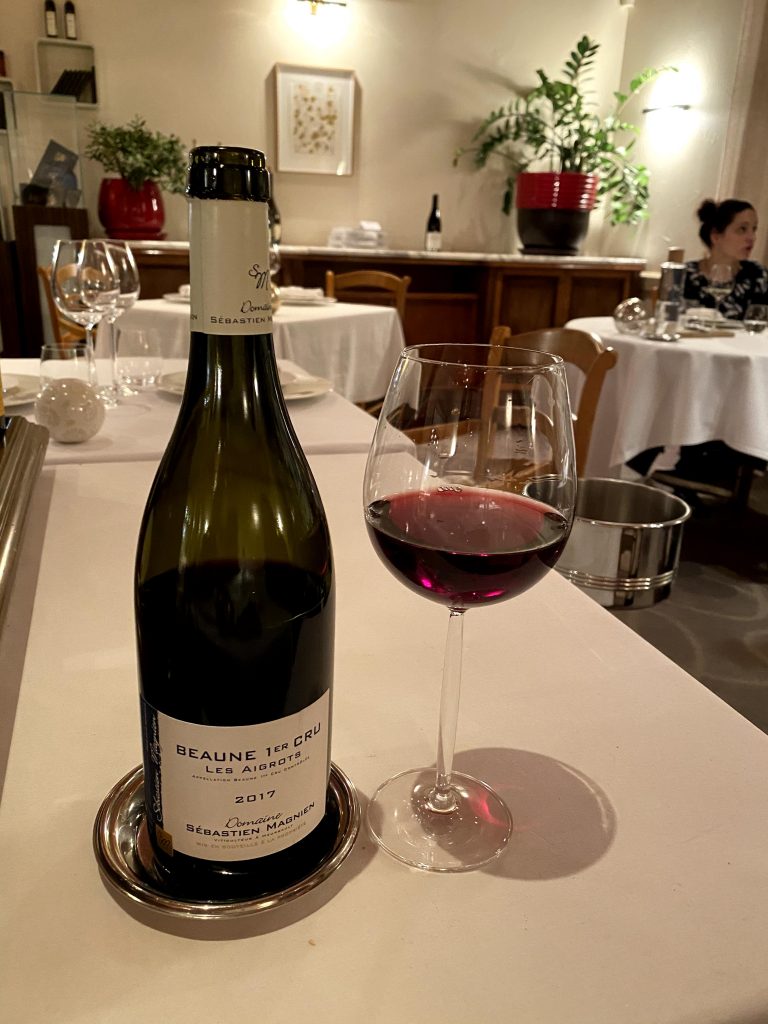 Time for dessert has arrived and we were expecting for it! First, we had a combination of ice cream: passion fruit and mango. And how smooth it was on our tongue! Unforgettable! Second, we had kind of apple pie with pineapples and crunchy ice cream and third, (yes, third!) we had a watermelon cake with watermelon ice cream! We didn't understand why they served us so many desserts, but we accepted them with love! Hahaha
We would recommend this restaurant if you go to Burgundy. By being a Michelin starred restaurant, it's not so expensive.
Wine Tasting
The second part of our trip was a wine tasting at Chateau de Pommard, with 5 tasty wines pairing with yummy food.
Right at the start we were so lucky because the guide was a bit late, so we received a glass of wine while we were waiting! Nice way to wait a late person! We have to bring this custom to other countries too.
Adele, the guide, walked with us around the vineyard, showed us the different terroirs producing different quality of wines and then went with us to the cellar, which is 1 km long! That is a complete dream to a person who loves wine, like the one who is writing to you! We learned that they have the best soil for the wine in the world. The area is called the golden triangle and it has the best chemical mojo for the top wines in the world.
Adele, the guide, walked with us around the vineyard, showed us the different terroirs producing different quality of wines and then went with us to the cellar, which is 1 km long! That is a complete dream to a person who loves wine, like the one who is writing to you! We learned that they have the best soil for the wine in the world. The area is called the golden triangle and it has the besaAfter some walking, we finally started our tasting with food pairing and 5 different wines.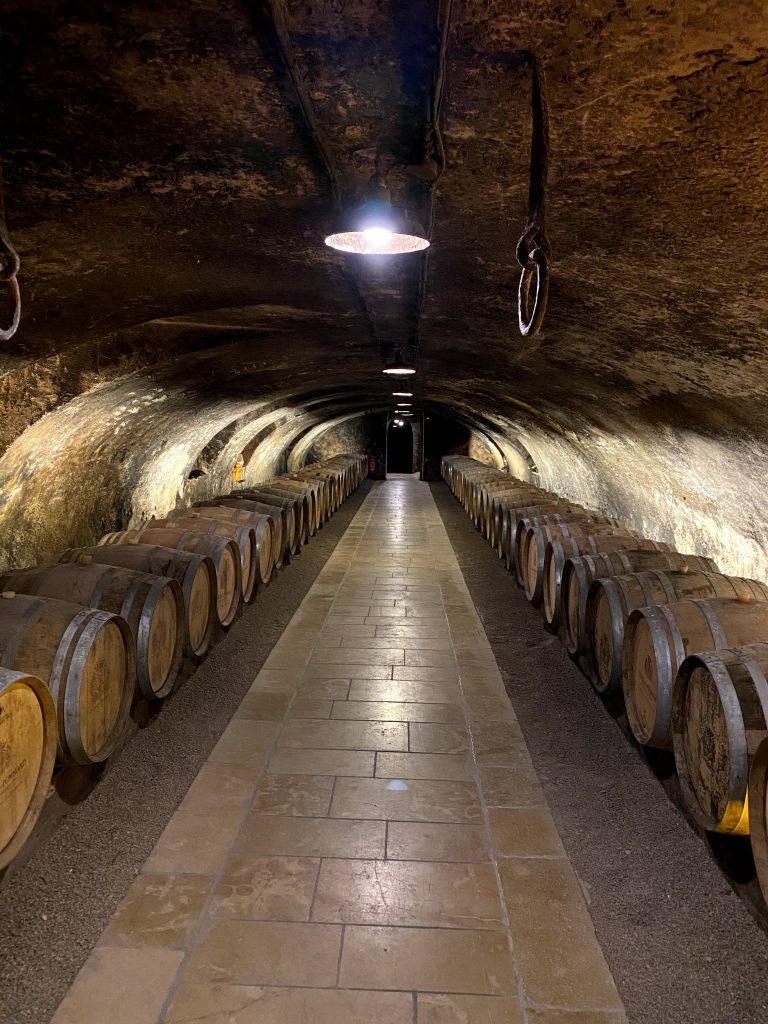 Every time I say that tasting wine is all about the experience and as we were at the spot, with a pleasant person explaining us the wine and surrounded by special wines, we had a truly unique moment after which we would take them all! Hahaha
It is really tough to explain all the feelings we had with a well-paired combination of food and wine, but I will try to make a summary: we had two white wines, one fresh and young pairing with a snack with oyster, the other more bold and "oily", to pair with cheese. Then we had 3 red wines, definitely our option when it comes to wine from Burgundy! And among those red wines, our preferred was one produced in 2012.
In Burgundy they produce wines only with Pinot Noir (red wine) and Chardonnay (white wine), that's why the soil there really matters to produce a special wine, also called, Gran Cru.
chemical mojo for the top wines in the world.
They ship wine worldwide, so we decided to buy some wines that we liked!
Bye, Adele and Chateau de Pommard! Let's leave this place, otherwise we will spend more than we have! hahaha
VISITING ROMANÉE-CONTI
As I am in love with wines, my lifetime dream always is to drink one glass of Romanée-Conti. Unfortunately, it is not so well affordable, but, at least, I always wanted to visit the place where this wine was conceived!
And to go there, we took the wine route and what an amazing route! Perfect for people who want to travel with a bike! We put it in our plans! Riding a bike and drinking wine!
Well, we finally arrived at Romanée-Conti and the place has a small wall, but it is opened! And the landscape is perfect! We were there, for some minutes, dreaming!
And then it was time to return to Paris, because it was a long way and our flight home would be in the next day.
Five hours after we arrived in Paris and, to celebrate more 1000 km behind us, we had to make a toast with one Chateau de Pommard! We said our goodbyes and I flew back to São Paulo and Matej flew back to Prague.