When we were planning our amazing trip to Chile and Bolivia for December we wanted to do everything but we had one big problem and it was time. We simply didn't have enough days to do what we wanted.
Therefore, we decided to combine Chile and Bolivia into one trip and squeeze as many places as possible into 8 days. Sounds crazy, but it wasn't! In this guide we will share with you the most incredible places you can see in Chile and Bolivia in just few days. To us Chile and Bolivia are the two most beautiful countries we have ever visited. We hope you will enjoy!
We started our trip in Calama where we flew from Santiago de Chile. For the first part of our trip we rented a car at Europcar at the Calama airport. We recommend to be wary what you rent because you will be probably climbing a lot of hills and Chilean famous lagoons are as high as 4 000m. What happened to us that we rented an off-road but they gave us a completely different type. It was still decent but for climbing, it didn't perform well.
Our ultimate goal was to drive around San Pedro de Atacama like crazy to see main sightseeings then return our car and hire a driver with an off-road to go to Salar de Uyuni in Bolivia. It's feasible because luckily main Bolivian attractions are close to Chile so you can combine both.
Where to sleep
In San Pedro de Atacama we mostly slept in hostels. We chose Hostal Pangea and Hostal Casa Flores as the best options on booking.com. San Pedro de Atacama is a big village packed with hostels. You won't miss anything to book differently according to your needs.
We don't mention our accommodation in Bolivia because this part of the trip was booked with @fuigosteitrips and we mostly slept in local dwellings.
How to book your adventures
San Pedro de Atacama is one of the places where you don't have to be worried not to book things in advance. It is full of agencies and you can literally make a reservation on spot.
As we had a car , we didn't have to book anything for the Chilean part of our trip. The only exception was the Lascar volcano which we booked with the agency because you can't go without a mountain guide.
For Bolivia we booked the trip with the awesome tour agency @fuigosteitrips in advance. They planned 4 days packed with adventures for us with a driver and an off-road shared with other people. Definitely worth planning it this way. You will see a lot and you will be sleeping in local places where you wouldn't normally go on your own.
What you should know
We did our trip in December when there is an average weather. During the day temperatures can be high and during the night be prepared to take enough clothing because nights can be really cold in hostels without heating and at high altitudes you will also experience strong winds.
In Atacama can be one of the driest weather in the world with almost no rainfall. It means that your skin will be completely dry which can even cause bleeding. Don't forget to take some anti-dry cream and use it as many times as possible.
Also, most of the time you will be going to high altitude. Make sure you are ready for great heights. We saw many people experiencing dizziness or being tired and when we were climbing the volcano Lascar some even fainted. What helps is to be fit. Do not eat much meat (eating lightly is advisable), drink enough water and avoid alcohol at any costs. If you are going to high altitude for the first time, take a couple of days to accommodate at high altitude.
1. Chile – Valle de la Luna (Chile)
You shouldn't definitely miss this one. Valle de la Luna is pretty close to San Pedro de Atacama so it is easily reachable by a car and there is a plenty to do in the area though the trip usually takes short time because all places are near and you can get to the most by foot within the park.
In the Valle de la Luna you will think you are in completely different world. The moonlike landscape is one of the most beautiful places on Earth. You will see yourself. Such breathtaking scenes are only there. We recommend staying until the incredible sunset and watch it from the top of the dune when the moon valley turns a nice golden and orange color. Very impressive!
For the best experience go to Valle de la Luna in the second half of the day. You will still have enough time to do all activities. Everything is super well marked. And you won't wait for too long to see the sun going down over the valley.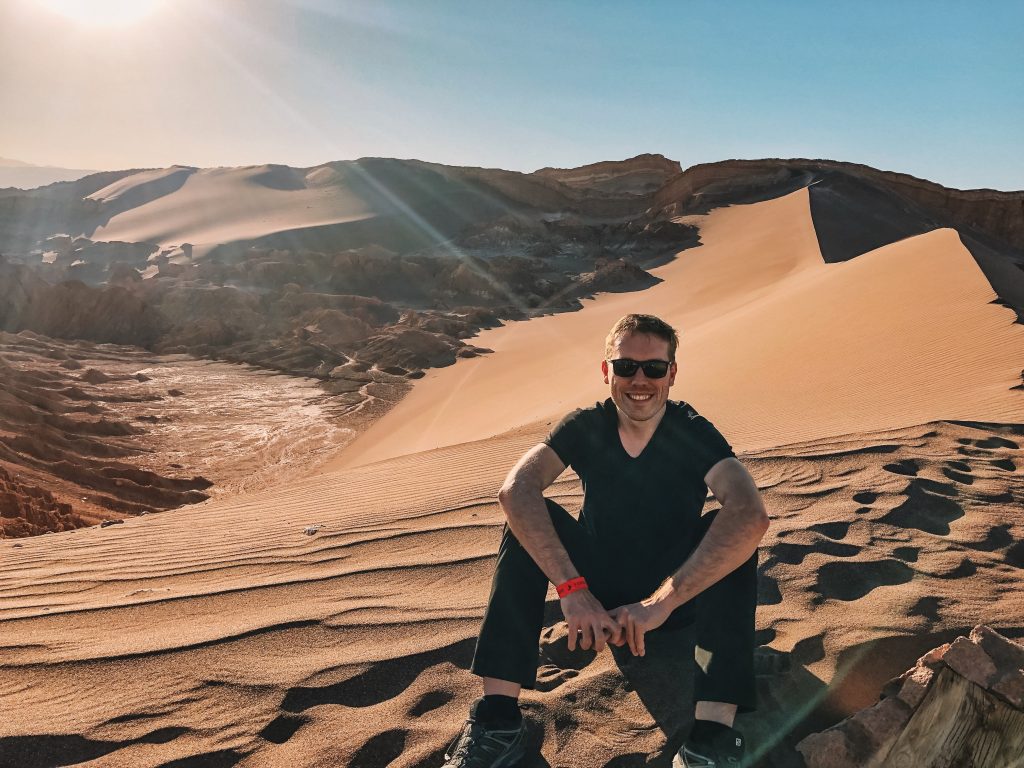 2. El Tatio Geysers (Chile)
The famous El Tatio geysers are 80 kilometers from San Pedro de Atacama. The magical geysers are bubbling at an altitude of 4230m and they are the third largest ones in the world. We once again used the car to get there. We recommend doing the same and arrive at sunrise because this time is the most spectacular when geysers go out. As the first beams of the sun hit the field, you will see geysers start erupting hot steam with great beauty.
Once again, we can't stress more to take a proper clothing because it is extremely cold at that altitude and while waiting for the sun, the temperatures are usually going to minus degrees.
3. Lagunas Miscanti y Miñiques (Chile)
The northern Chile is famous for its majestic Altiplanic lagoons. The word altiplano means "high plain" and you will see most of these lagoons as high as 4000m and more! They are absolutely stunning and almost every lagoon has different spectrum of colors so they look really beautiful. Set in magical Andes you will see one of the most gorgeous mountain scenery of your life. We truly mean it!
We visited lagoons Miscanti and its neighbouring lagoon Miñiques by a car. Both are located 120 km from San Pedro de Atacama and they are easily reachable because roads are in good condition even for non-road-all-terrain vehicles. Just remember you should have some good car to be able to climb to 4000m. The natural landscape has some of the best epic atmosphere of Andes.
4. The Lascar Volcano (Chile)
Our last day in Chile before we went to Bolivia we could have just rested and chilled with a couple of beers but the day before somebody had said "Hey, there is this volcano and you can go up to see its crater and it's just 5000m!" and all of us were like "woooow". Without even knowing what it means to climb to 5000m we decided to go for one of our most epic adventures of all times.
The Lascar volcano is just huge. You will notice its big height when cars of the agency take you to the base of the volcano. The tour has to be booked what we exactly did in San Pedro de Atacama and definitely have some level of good sense before you decide because expect it to be quite difficult climb. On the other hand, the whole adventure is amazing and after you reach the summit, your endorphins will be at their maximum.
You start slowly at the base of the volcano and you continue step by step up. You have to go in the group with the professional mountain guide. After you reach 3000m ,you will notice the sudden change of difficultness, you are not breathing so easily and legs start to be more heavy. Still, we were doing fine at this point because we both are quite vivid runners. But some people around already had problems. They couldn't go further and they felt bad so they had to stop. On the way back we even saw some woman to faint and she had to be taken down. The best defense against the high altitude sickness is just to go down as quickly as possible. Make sure you always help others in the group.
The average sporty person can reach the crater without any problems. Though you will be completely tired, you will enjoy the spectacular views of Andes from 5000m. The highest point is 5592 m so if you still have some energy, you can go even higher. There is a nice zig-zag way up. On the top you will definitely feel like a true climber who just conquered Mount Everest.
5. The Green And White Lagoons (Laguna Verde y Blanca) – Bolivia
At this point of our journey we crossed borders to Bolivia. As said above, we used the agency @fuigosteitrips for the second part of the trip. We booked it in advance and we shared an off-road car and a driver with other people to save costs. They usually provide the local driver who takes you to all places and you stay at hostels in villages around – all included if you book it with the agency.
All main attractions are pretty close to borders with Chile so we definitely recommend to plan your trip similarly. It would be a pity not to use this great opportunity to explore amazing Bolivia when it is so close. Anyway, if you are looking for a shorter trip. You can just leave this part and travel Chile only.
In Bolivia our first stop was at the beautiful Green and White lagoons. It is incredible what nature can do. You will see a true colorful beauty at every step. Both are definitely wonders of the nature that you will remember. You won't see anything like that anywhere in the world.
The Green Lagoon is at the foot of Licancabur and Juriques volcanos (you can even climb the first volcano). Its water is stylishly green which is caused by high content of magnesium. It really creates some of the most spectacular views. The lagoon is located at 4350m.
The White Lagoon as its name says has a white water surface caused by minerals as well. It is within a reach of the Green Lagoon so you can visit both in relatively short time and walk alongside its beautiful shores.
The whole area is just perfect for any kind of hikes though in our case we didn't have much time and we had to continue further. As both lagoons are close to Chile, you can visit them specifically and do treks around and then return back to Chile. Depends on your taste for adventure!
6. Salvador Dalí Desert – Bolivia
Who likes surrealist paintings done by Salvador Dalí, you shouldn't definitely miss this desert named after the famous artist. The valley is completely covered by sand and it looks like the most deserted place on Earth with few strangely formed stones. Don't be surprised not to see any roads. There are none and you should always reach this area with a guide and driver. Otherwise, this stop is very short and you can soon continue to the next point.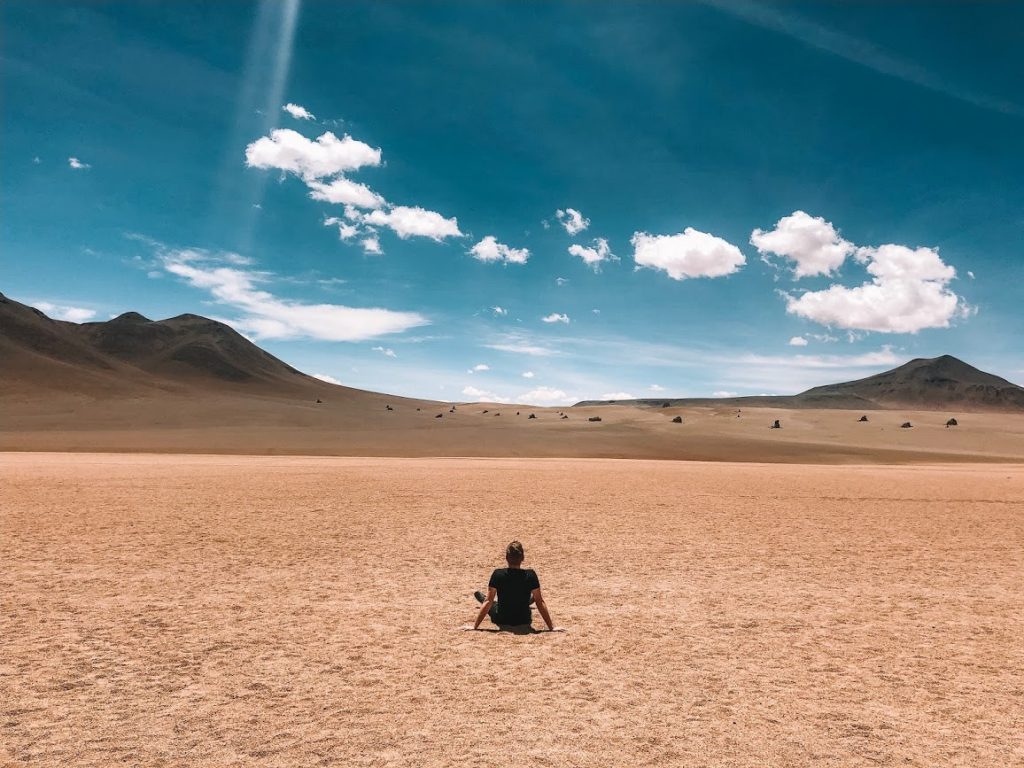 7. Termas de Polques – Bolivia
Very nice treat on the way! Who would expect spas in Andes? You can literally take your swimsuits and go to hot springs in open pools and enjoy spectacular views in front of you. If you are lucky, the nearby lake can host many flamingos! For people who are not so speedy like us and who are staying here for longer time, you can even go to the pools during the night and watch stars with a glass of good wine. In our case we spent there an hour or so and we went to the next location! Short treat but worthy!
8. The Snake Canyon and Valle de Rocas – Bolivia
On the way to the amazing Salar De Uuyni you will probably do many stops with your driver. The stops which are worth to mention are the Snake Canyon and Valle de Rocas. The Snake Canyon is huge with a river that looks like a snake meandering down the valley.
The most amazing stop in this part of our trip definitely were rock formations called Valle de Rocas. Just image a big field of huge stones. Everywhere you look , there are just rocks of different shapes and types. The two most iconic and famous rocks here are resembling The World Cup trophy and The Camel. Make sure you won't miss them. The whole place is incredible and very photogenic. You can even climb some rocks to have a better view on the entire valley.
9. Salar De Uyuni – Bolivia
The salt desert is just magnificant. We spent a night at the salt hotel and early in the morning we went for the amazing Salar De Uyuni. This was the pinnacle of our trip we wanted to visit. We recommend to start your Salar De Uyuni tour really early so you don't miss the sunrise over the place. If we should name Top 10 most beautiful places in the world, Salar De Uyuni would definitely be at the top!
The Salar De Uyuni is the largest salt flat in the world located in southwest Bolivia at 3663m. The sight is the main attraction of all. The Salar is also very famous for its mirror effect. During rainy season from January to March, large parts of the desert are covered with water and you can literally walk on the surface like you would be walking on the sky. You will feel like in heaven. We visited the Salar in December so we couldn't play with our reflection though we could take perfect pictures playing with perspective and proportion thanks to the flatness of the place. Let your imagination run wild!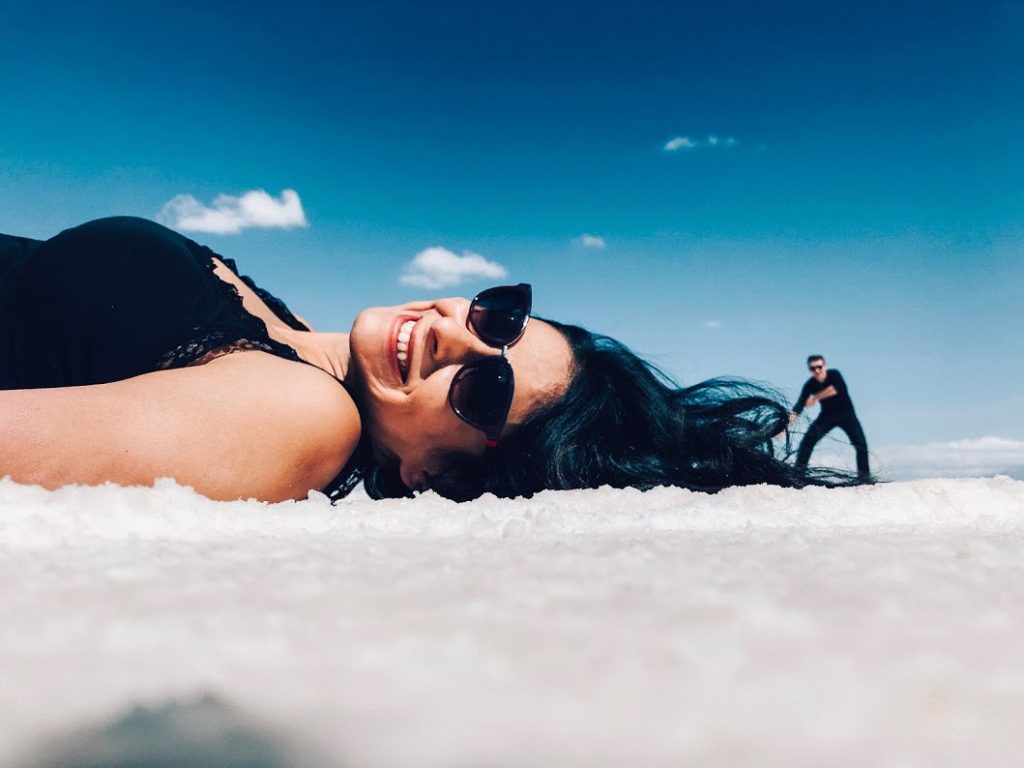 10. The Train Cemetery – Bolivia
Our last stop was the graveyard of trains. The cemetery is located just in close proximity of the city Uyuni. In early years the city served as an important hub for transporting goods. They even planned to go bigger but at the end they abandoned their plans and left trains to rust. You will find there different locomotives and some of them even have cool graffitis.
We saw a lot of irresponsible people climbing wrecks of trains for the best picture. We do not recommend doing that. During our visit we heard that one tourist died doing exactly the same not long time ago. The trains are rusty and they have a lot of sharp parts that can hurt you.