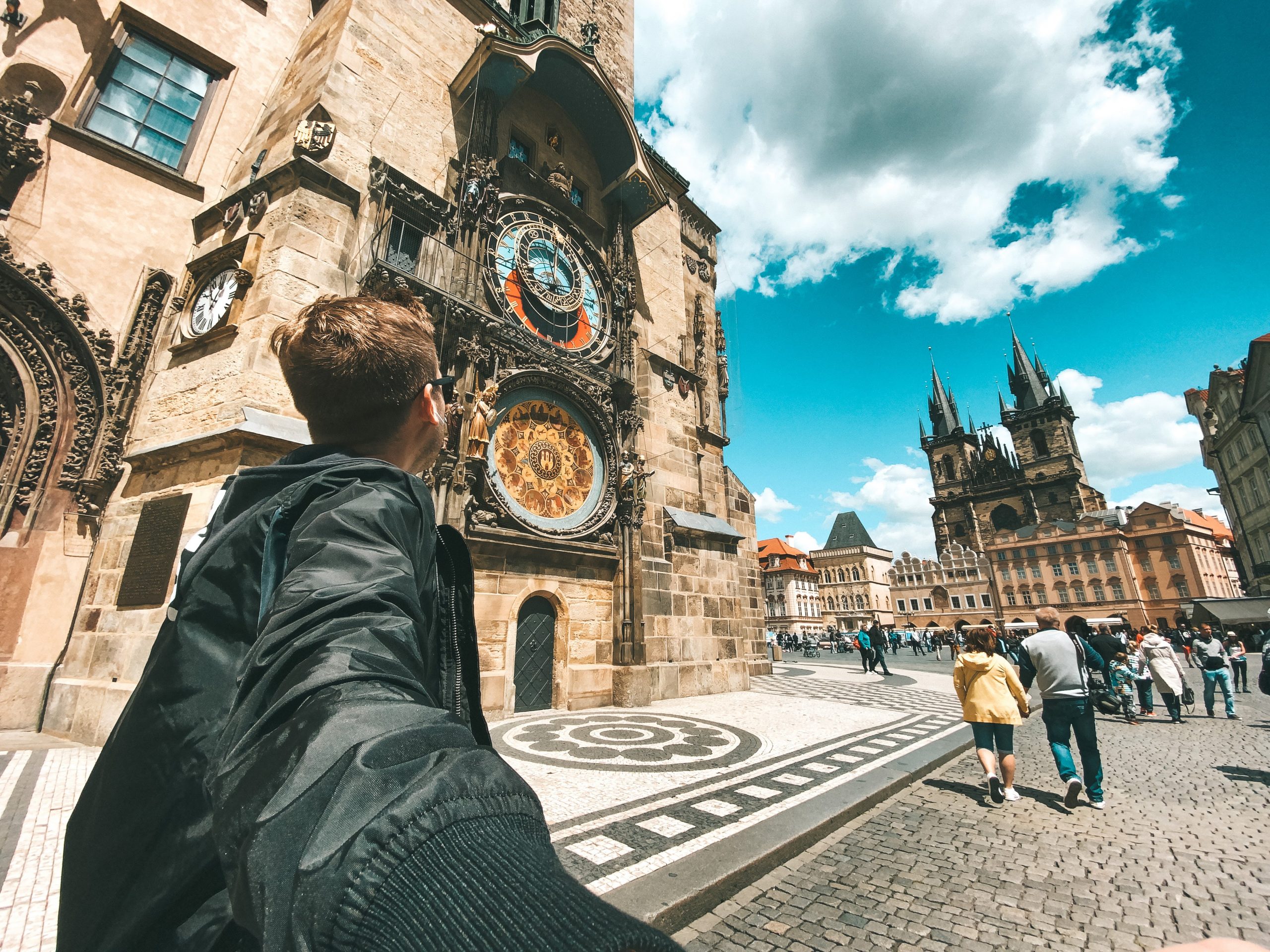 Since 2015, when I have visited Prague and Czech Republic for the first time, I fell in love with this city! It's small (when compared to São Paulo) and charming, with a medieval environment that makes you feel like in a real fairy tale! That's the most amazing factor, because you don't need too much time in Prague to visit the most important and beautiful places and to fall in love for this magical part of the world!
Matej lives in Prague, but it was a coincidence, because we first met in São Paulo. But, of course, the fact that he was living there was one of many positive qualities he has! When we first met and he said he was from Prague, I was shocked and that moment I discovered it was destiny that put Matej there, with me!
Every time I was in Prague (6 times and counting…), I discovered a different magic place and it is always lovely! Today I will write about 5 places I loved in Prague and I wouldn't miss if I had only a couple of days there. So let's start our trip around the most beautiful city in the world.
1. Charles Bridge
Definitely a must-see! And every time I return to this city, I want to visit Charles Bridge at least one more time! Every time you go there, you discover a different detail, not counting that you can breath a true history there! There are many street artists painting or playing an instrument! The atmosphere is great and lovely!
During the day, it's completely overcrowded, but it is worth, because you will feel the environment. But if you want a great picture of the bridge, I would recommend you to go early in the morning, because you will be alone and you will enjoy the sunrise in one of the most iconic places in the world. Another possibility to enjoy a calm Charles Bridge is to visit Prague during winter, but prepare your coats: it can be really cold, especially for people from tropical countries, like I am! 😉
As you are in Charles Bridge, you can taste the best Trdelník in the city. Trdelník is a candy like a sweet bread and there are many options of flavours that you can put inside. You can see Trdelník everywhere in Prague, it's simply delicious; you can't leave Prague without tasting one. For the best one go to Good Food Coffee & Bakery. You can't miss this place because it is in a street in front of Charles Bridge and you will have a nice picture to share on your Instagram profile!
The famous Trdelník is definitely one of the best sweet treats in Prague but remember that this pastry is not Czech origin. It comes from Transylvania in Romania where it was an invention of the local German community. From there it got to Hungaria and Slovakia. Therefore, don't fall for the "Old Bohemian" Trdelník as making these sweets purely Czech is not correct and it is a marketing deception. Though still worth trying.
How to get to the Charles Bridge: Charles bridge is located in Old Town, it is really easy to get there. If you go by subway, the stations that are close to the bridge are: Malostranská (line A, green) and Staroměstská (green line A). If you go by tram, the stations are: Malostranské náměstí. Their subway is really nicely done, very fast and intuitive. In comparison with other subways it is also roomier. I would recommend you to use mainly subway because all main historical sites are on the green line A.
2. Prague Castle
The first time I visited Prague, with my friends, we stayed in the cool / hipster neighbourhood called Žižkov and we decided to visit the castle by subway. It was fast and we didn't have to go up the hill by the stairs. But, if you have time and you want to lose some calories, I would recommend you to visit Charles Bridge, cross the bridge towards the castle and go to the castle on foot. You will have the opportunity to know the oldest prat of Prague, the neighborhood where the castle is and you will feel like in a medieval movie.
This was the option when I visited the castle for the second time, and we arrived there by the stairs, we were completely sweaty, but really happy as well. Prague Castle consists of beautiful palaces and buildings connected by small alleys.
To enter there is free (!!!), but if you want to visit the palaces, then you have to pay a fee, but it's not so expensive! Points to Czech Republic, it's a cheap country to visit! As Prague castle is one of the main sites be aware of long lines. Recently they have installed security checkpoints around the castle so time to time you have to wait a bit to get in.
But let's talk briefly about the history of this castle, which takes us to the history of Prague! Because Prague's history begins with the construction of the castle, its strategic location made it the center of the territory, in addition to being the residence of the Kings of Bohemia since its founding by Prince Borivoj.
In 1918, Prague Castle became the residence of the President of the Czech Republic and, since then, the President has had his office there. I wish I could live in the castle too!
As mentioned, the castle has several old buildings with its own history, the most important of which are:
St. Vitus Cathedral: this cathedral is the symbol of Prague and the entire Czech Republic and there you can see masterpieces of many notable artists, including a stained glass window painted by Alphonse Mucha, a prominent Czech modern artist. To enter there, it's free and you can be luck to watch a ceremony there. Ah, and marriages are celebrated there and it's not so expensive. So if you are thinking of getting married in a foreign country, I wouldn't hesitate to recommend you this cathedral with its iconic gothic architecture.
Old Royal Palace: Created in the 9th century as a primitive wooden palace, the old palace underwent important renovations until it became the impressive building that is preserved today.
St. George's Basilica and Convent: Founded in 920, the old basilica was expanded in 973 with the construction of the convent, which currently houses the 19th century collection of bohemian art from the National Gallery in Prague.
Black Tower: It became known with that name after a fire made it dark. This tower functioned as a prison for the indebted, prisoners who had several privileges.
White Tower: Tower used as a prison for members of the nobility.
Because of its strategic location, it is possible to see the whole city downhill and the view is simply stunning, you can see the city of orange roof, as Prague is known!
Btw. If you are really hungry and a bit tired, there is a nice place to eat and drink right in front of the Prague Castle and good news is that it won't ruin your wallet. Kuchyň is very interesting Czech restaurant with the focus on the traditional Czech food. The word Kuchyň means The Kitchen in English and it literally looks like the one! After you are seated, you are invited to the real kitchen where you are introduced to several Czech meals done in front of you. They also have one of the best lager beers Pilsner Urquell in the tank.
How to get to the Prague Castle: If you go by subway, the station that is close to the castle is Malostranská (line A, green) then take tram 22 or 23 to Prazsky hrad or Pohorelec. Or, as I told previously, my favourite way is to walk from Charles Bridge to the Castle, because you can see many nice locations, such as St. Nicholas Church, but, as it is a hill, you will have to do some exercise! But it is not impossible!
3. Prague Astronomical Clock
The astronomical clock, made by watchmaker Mikuláš de Kadan, is one of the oldest and most detailed watches ever made in the world. It is on the facade of the medieval City Hall.
This clock is envolved by many legends and nobody knows if they are true or not. One of them says that a man named Master Hanuš would have built it. The masterpiece was so surprising that city officials feared that he would build similar watches everywhere, thus stealing Prague's fame. To prevent Master Hanuš from doing this, they hired men to attack and blind him. The legend ends with the dying Hanuš reaching the gears of the clock and destroying it. Fortunately, this is just a legend.
The masterpiece was installed in 1410 and rebuilt in 1490 by the watchmaker, Master Hanuš, a watchmaker in Prague from 1475 to 1497. For many centuries it was believed that he was the creator of the watch, until a document was found in 1961 , which revealed the true story, showing that Mikuláš de Kadaň built it in 1410, and Hanuš rebuilt it in 1490. Since the 16th century, the timekeeping mechanism has been repaired and rebuilt several times.
On the clock facade, in addition to the 12 apostles, there are 8 other statues. On the sides, in the upper part of the dial, on the left, Vanity, with a mirror in hand, and Avarice, holding a bag of money. On the right side, Death, holding an hourglass, and Pagan Invasion.
The figures around the calendar are, from left to right, a Chronicler, an Angel, an Astronomer and a Philosopher. These statues can be interpreted as the four most important sources of Prague's art and culture of the time.
The calendar under the clock face is a replica of a painting by Czech Josef Mánes, produced in 1866. This piece depicts all the astronomical knowledge of the time, as well as 12 scenes representing the four climatic seasons that, at the same time, celebrate the rural life in the Bohemian region.
Every day, every full hour, from 8 am to 8 pm, the whole mechanism comes to life. In addition to the mechanical movement of the apostles, there are other figurines that move around the outside of the watch. The time change on this watch is preceded by a spectacle.
The Prague astronomical clock indicates several hours: the astronomical, Central European, Old Czech and Babylonian hours. This Prague clock is the only one in the world that can tell the Babylonian time.
As it is one of the most important places to visit in Prague, around 15 minutes before each full hour, the location started to be populated by tourists. Therefore, when I go there, I arrive half an hour before and start to walk through the square, which is very interesting as well. But don't get disappointed if it's overcrowded and you can't see anything, because you can always return to see this unique show, that I can't understand how it can be so antique and so perfect!
How to get there: It is located in the Old Town square (Staromestské Námestí). It is the historic square in the center of Prague and if you want to go by subway, you should take the green line A and go to the station Staromestska. If you prefer tram, choose lines 17 and 18. Search for them on Google Maps.
4. Vysehrad
If you don't like places full of tourists, this is the place you will like to visit. As I was always in a hurry when I passed through Prague, I never had time to visit the famous Vysehrad, which I really regret, because the place is amazing and peaceful! We went there for the sunset, but I imagine it can be a nice place to visit in the morning for a jogging time or visiting it during the afternoon for a picnic! We promised to go there next time for a picnic with Czech wine! Well, in fact there is an old ancient vineyard in Vysehrad!
Vysehrad is a fortress in the middle of Prague! When you arrive there and start to walk inside, it is impossible to feel that you are in a big city! It's big, green, calm and full of history.
This castle and fortress was built during 10th Century and it is older than Prague Castle. According to legends, this place was the foundation of Prague! This castle was, once, more important than Prague Castle, but, then, in 1140 the governement returned to Prague Castle.
There are many places you can visit in Vysehrad, which are: Castle Walls, Saint Martin Rotund, St Peter and St Paul Basilic, Vysehrad park, even a cemetery where are burried famous artists, writers or composers and other iconic Czech figures who shaped the nation, but the part I liked the most is the view we had to Vltava River! It's amazing and you can even see Prague Castle from there!
How to get there: it is really easy to get there and the easiest way is to take the subway again, the read line C and go to the Vysehrad station! If you prefer tram, the lines 3, 7, 16, 17 and 21 can take you there.
5. John Lennon Wall
When it comes to street art, this is the place to go in Prague. It's a huge contrast in that historical / medieval city to find a wall full of paintings which are changing constantly.
What I thought more curious is that John Lennon, in fact, never visited that part of Prague! 😉 And this place receives this name because of John Lennon's death.
The first painting was done during 80th decade, during communism and because people were sad about John Lennon's death. The police understood it as protest and painted it with gray paint. But again, a new John Lennon painting appeared there! And every time police tried to clean it, a new painting appeared and this wall became a symbol of Czech resistance to communism.
Since then, this wall is like a chameleon, so every time you go there, it is a different experience!
And you can see artists playing guitar there, many people taking pictures and some just hanging out.
How to get there: it is not difficult, just cross Charles Bridge towards Prague Castle and then turn your left to Lazenska street. Walk around 2 min to Velkoprevorske namesti and the wall is in front of France Embassy.
Well, Prague is a city extremely rich in sightseeings and I could write a lot about them, but the text would be so long!
To finish, I would like to talk briefly about Vltava river, which is the river that crosses the city. If you visit the city during summer, you can rent a paddleboat for one hour to explore the river. And the most amazing is that you can bring your own food and drinks and you can enjoy your sunset there, for example, observing the Prague castle from the river, drinking your Czech beer or wine and thinking how life can be so great! Just don't overdo it with alcohol so you won't end up floating all the way to the North Sea.
And, finally, if you want to drink all kind of local beers, you have to visit the best bar called BeerGeek located on Jiřího z Poděbrad square (remember the green line A)! It's a cool pub that sells 32 types of beer, Czech or German or any other beers so you can compare, and you can even choose tasting of 5 beers. To eat, they have amazing chicken wings with different levels of spiciness. They are so yummy that I would consider them the best in Prague! When I go there, I choose the one with honey and mustard, it's not so spicy, but it's definitely delicious!