Hi, Folks! This is Débora and now I will write about our trip to Italy.
You may have been asking why Italy? Well, it seems to be a clichê, but it's not! First, one of my passions is wine and Italy has high quality wine, including Brunello di Montalcino, Matej's favourite wine! Second, Italy is the country of Roman Empire, so everywhere you go, you breath History! And third, my ancestors came from Italy to Brazil, so I was curious to visit their homeland.
Unfortunately, we had only few days and an immense number of destinations. Therefore, we decided to visit all single place it was in our mind and be fast, to achieve it all. We had 8 days to visit Milan, Tuscany (Montalcino, Montepulciano and Siena), Rome and Amalfi Coast (including one day in Pompeii).
Milan
We flew from Prague to Milan on September 7th 2019. The weather was really pleasant (between 22 to 24 oC, which is perfect to me), with clear skies and shiny sun! We went from airport straight to Milan Cathedral and we had a reservation to go up to "Milano Duomo" with 10% discounts because of my credit card – yes, I love discounts and I am always looking for them! You will find more info HERE.
Next to "Duomo di Milan", there is Galleria Vittorio Emanuele II, Italy's oldest active shopping mall where we could see the most important and luxurious brand stores, such as Louis Vuitton, Prada, Gucci, Dolce & Gabbana, Versace… They are stunning, but… too pricy! For this reason, we only had a walk, saw some stores, but we didn't buy anything! 🙁
We were on our way to have lunch, and we couldn't eat anything different than Italian Food! We decided to go to Spontini, it is a comfy pizzeria, with the best pizza in Milan (at least it is considered…) and, for our surprise, we could have a really nice pizza for an affordable price! Great experience!
As we didn't have time to book in advance a visit to Leonardo Da Vinci's masterpiece The Last Supper, we went there, just to see if we could find tickets, but we couldn't. For this reason, if you are interested to visit this place, book it at least 6 months in advance.
In front of this place (Santa Maria delle Grazie church), there is a place called Leonardo da Vinci's Vineyard (La vigna di Leonardo). We decided to go there, because we had some time. I don't recommend it. The entrance ticket was expensive and there was nothing, just a house with a vineyard, which is claimed to have belonged to Leonardo before his death.
Our last visited place in Milan was Sforza Castle, which is considered the largest citadel in Europe.
After that we had an ordinary Happy Hour and went to the bus station to go to Florence. It is much nicer to go by train, but, on the same time, it is usually much more expensive; therefore, we usually choose Flixbus, which is really cost-effective and it is possible to buy the ticket in advance for a lower price. – https://global.flixbus.com/
Florence
We arrived in Florence around 2 am and we had scheduled a taxi to the hotel, because Florence is a really small city and nothing happens during late night. And to our surprise, the driver was an Italian who had lived in Brazil for a long time and could speak Portuguese very well! Pleasant surprise! We could talk a lot and he gave many tips to us!
The next day would be a full day! Full of places to visit and I was really excited! We woke up early, had our breakfast and went for the first venue. We decided to be in a B&B in the city centre, because we could go everywhere on foot.
As we have heard that the sightseeing in Florence are really busy, we booked everything in advance, so we didn't miss a single interesting place, like it happened with The Last Supper.
We were really close to Accademia Gallery, like two quarters away, so we decided to go there first. Arriving there, there was a big queue, but we could skip it with our tickets! Yes! And inside, we saw the impressive and imposing Davi, a masterpiece created by Michelangelo.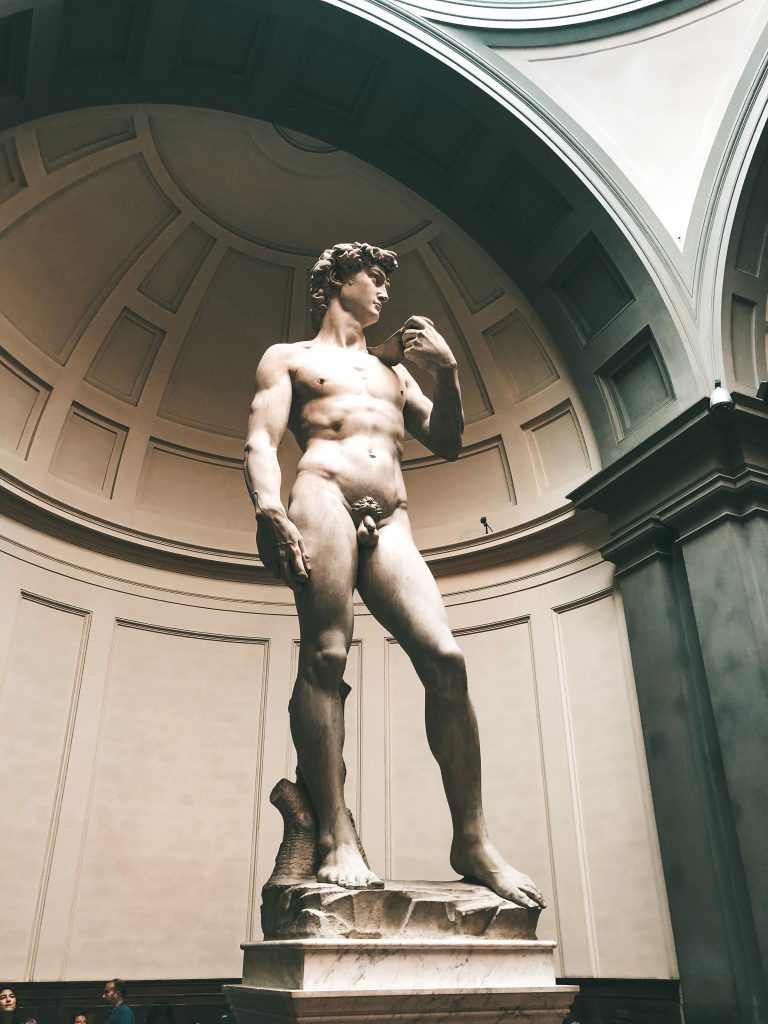 After, we walk towards Cathedral of Santa Maria del Fiore, another stunning venue and the line was huge! In this case, we didn't have any ticket, so we decided to leave this place for another opportunity and we went to The Magnificent Uffizi Gallery – the world's top art museum – and there we could spend hours breathing art! It was simply amazing! Again, we had a ticket, so we could skip the queue. For this reason, I really recommend to buy everything in advance.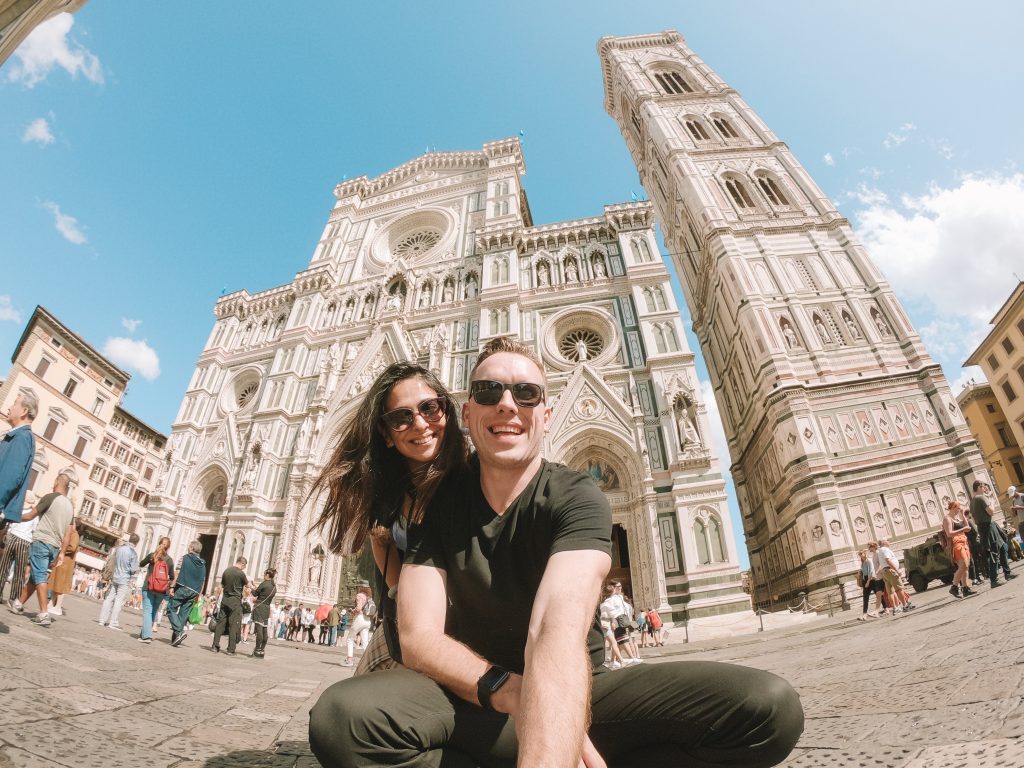 We left the gallery and walked through Ponte Vecchio, where we could take nice pictures and we went to the rental car to pick up the car we had booked to go to Tuscany.
With the car, we drove to Scalea del Monte alle Croci, to have a panoramic view of the city and take some pictures during the sunset.
Tuscany
At this point, we would go to the place of my dreams! I have a passion for wines, in special, Italian wines from Montalcino – the famous Brunello di Montalcino!
We drove around 2 hours to arrive in Montalcino. When we saw Montalcino, on the top of the hill, a walled city, like the ones we watch on movies and it was amazing! Exactly how I imagined it would be! Montalcino looks like a fortress and you feel in Medieval Age when you walk through the small streets. The hotel we chose was a small castle – because we love castles! – and, as we are so lucky, we were alone in the castle, so we had an upgrade for free! At that night, we had dinner in a local restaurant and we ordered our first Brunello di Montalcino in Montalcino! Hahaha. Amazing experience!
Next day, we woke up early, walked by the city and we had booked a visit in Castelo di Banfi and a lunch in Fattoria dei Barbi. First, we went to Castelo di Banfi and we had a wine tasting session with really, really amazing wines. I was so in love, but the prices were not so amazing! Hahaha.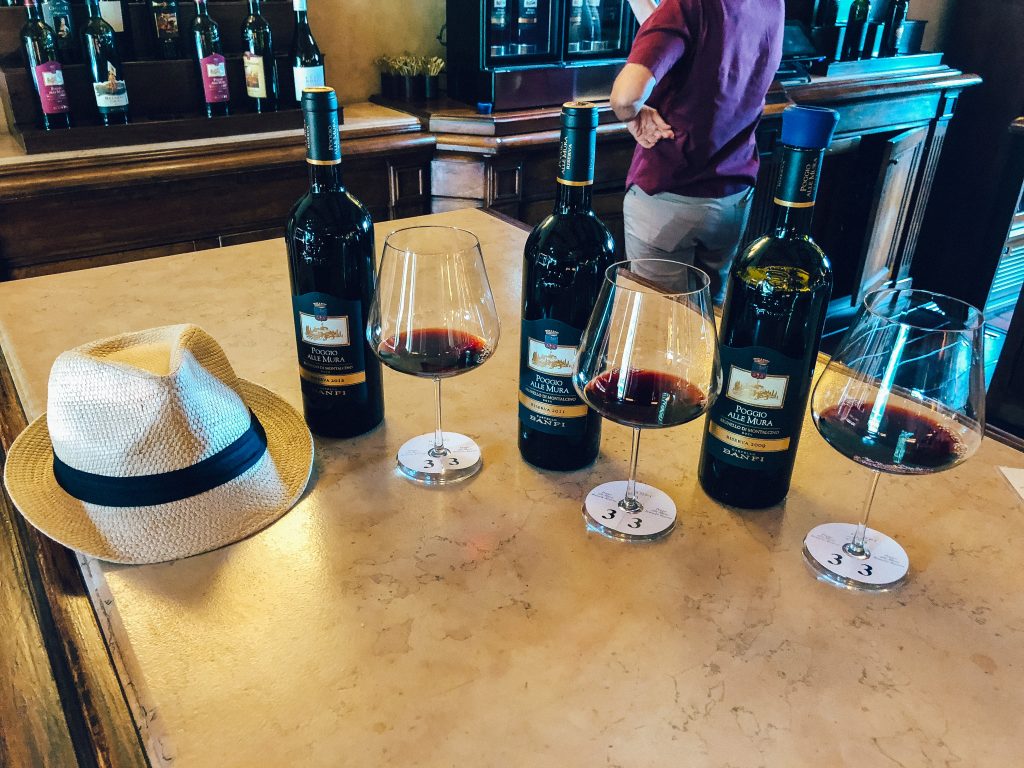 We went to Fattoria di Barbi and we ordered one Fiorentina steak, typical food from Tuscany, with a Brunello di Montalcino. I have to confess that the steak was too fat, in my opinion. And I didn't like too much. As a dessert, we had Vino Santo – a sweet wine from Italy – with some cookies.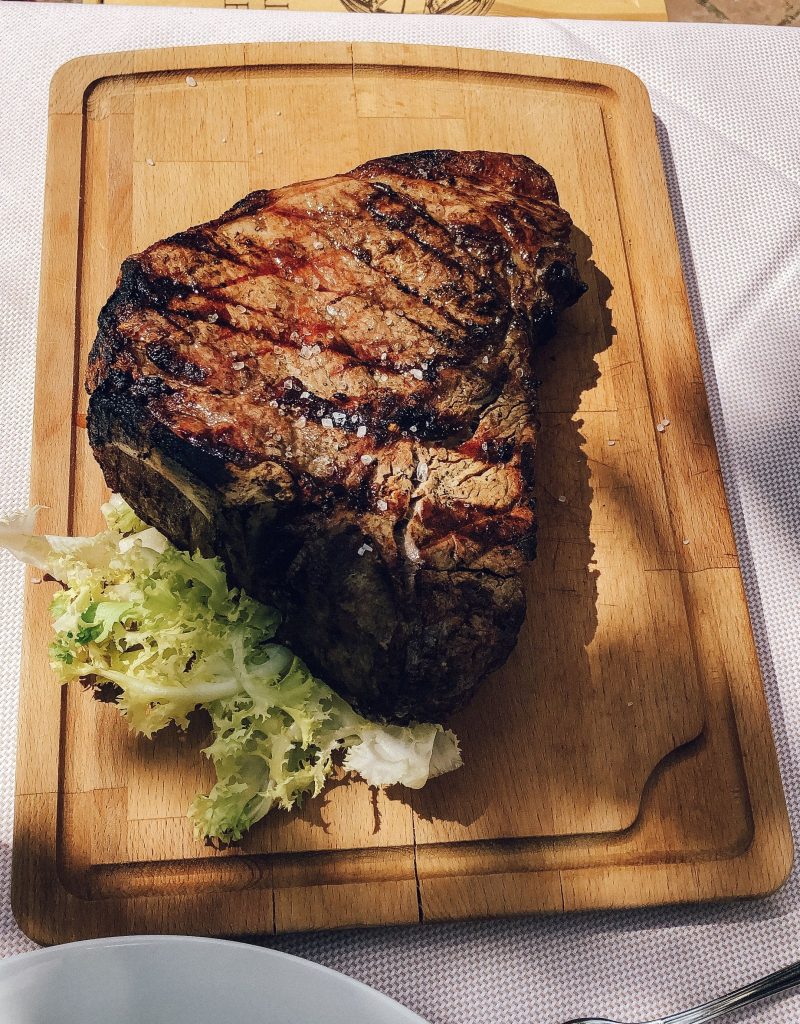 After lunch, we drove to Montalcino again, had a walk, another wine tasting on the fortress – there is a wine bar inside the old ancient fortress in Montalcino, named Enoteca la Fortezza. By this time, Matej was in love for Brunello di Montalcino also and he didn't want to taste any other wine! Hahaha.
We picked up our things and drove to Montepulciano. There, we were sleeping in a winery. Another dream! To wake up and watch the grape yards!
One funny thing that happened to us: we would like to take a picture in Tuscany, in a specific place there are many pictures in Instagram, and we thought the best period was the sunrise, so we woke up early and drove to that place. We waited for the sunrise and what a surprise: the best time is sunset! And with professional cameras! I was a bit angry, because I hate waking up early, but then we returned to the hotel and slept more. Hahaha.
We had booked lunch in a wineyard called Enoteca Salcheto. It was kind of a brunch with wine. It was really good! But I have to confess that Nobile di Montepulciano is not my passion. And Matej didn't like Nobile di Montepulciano the same way he liked Brunello.
We had the whole afternoon in Montepulciano and Siena. We tasted more wine, we had some Italian gelatos, we ate pizza, and we laughed a lot! Around 6 pm we left Tuscany, because Rome was waiting for us!
Rome
We drove to Rome, left the car and picked up the subway to the B&B, which was less than one kilometer away from Colosseum!
Rome is exactly everything you hear. You walk a bit and find an ancient place! You feel like living in Ancient Rome!
We left our things at the hotel and we needed some dinner! The host recommended us "Trattoria Al Tettarello". By this time of the trip, my budget was down, and as you know I am Brazilian and we have bad currency conditions, I was searching for a nice and cheap restaurant. And this restaurant didn't disappoint us! It was crowded, but time to have a table was around 30 minutes and food and wine was spectacular and completely affordable!
We slept because the next day would be really tough day! First place, once more booked in advance, was Colosseum, the largest ancient amphitheater ever built! I was feeling a true gladiator! At that time, I was thinking I would like to be in Italy forever! Right next to Colosseum, we visited Arch of Constantine, the arch erected to honor the victory of Constantine following the Battle of Milvian, and following, we went to Palatine Hill and Forum Romanum. There was an exposition taking place on Palatine Hill and Forum Romanum was a magic place, and now I understand why it is called the first nucleus of the Roman Empire.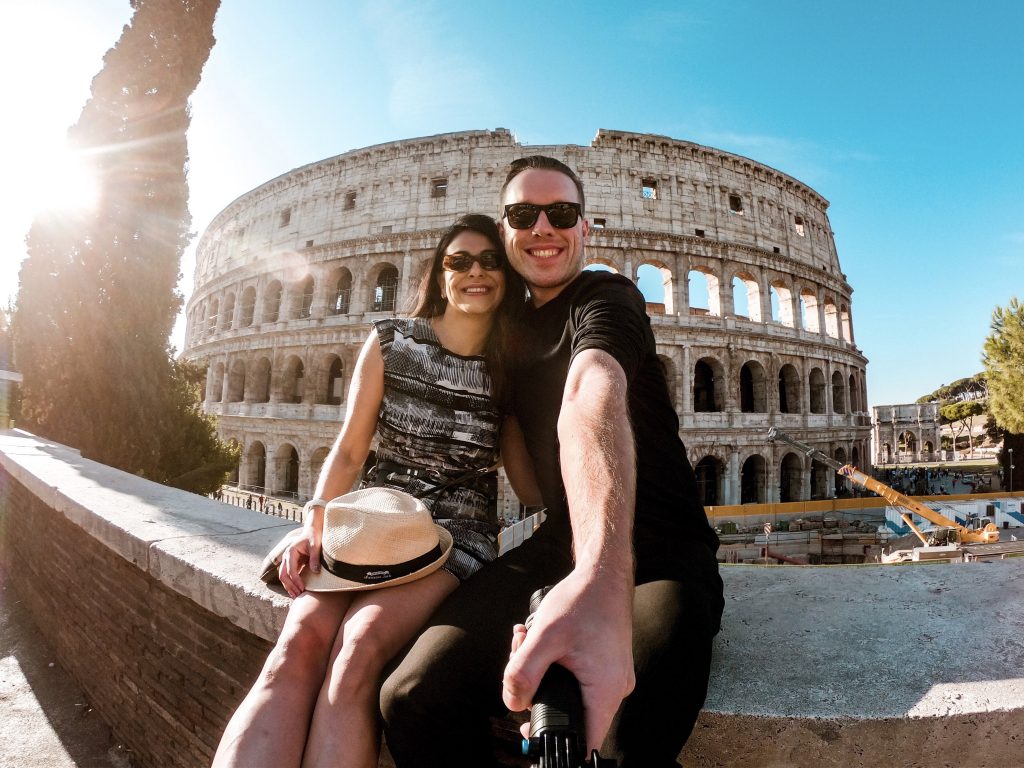 After lunch, we went to visit Pantheon – the best-preserved of all Ancient Roman buildings – which is kind of church nowadays and after that we went to Trevi Fountain, the most famous fountain in the world, and as expected, it was completely crowded! We decided to return next day, early in the morning, to throw a coin and make a wish!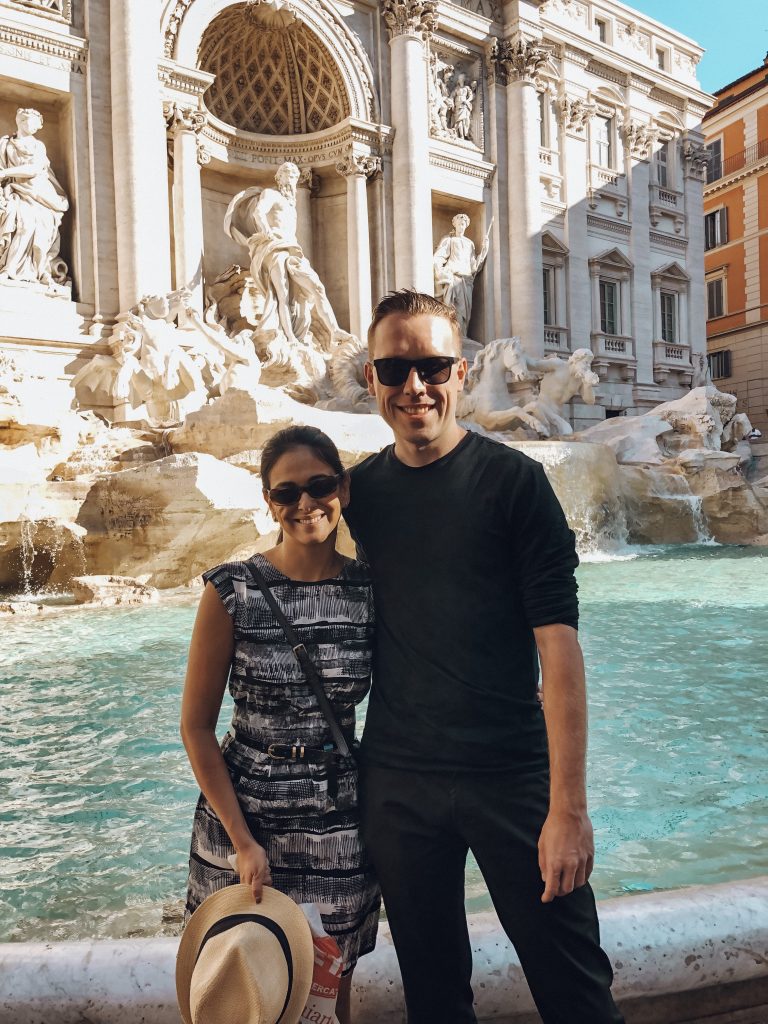 All these places we visited on foot and we walked more than 20 km that day! But next day would be equally tough!
We woke up and went to Vatican museum, where we visited the most impressive chapel for its paintings, in special the paintings of The Last Judgment by Michelangelo, the Sistine Chapel, and then we went to St. Peter's Basilica, because my Mom is catholic and I would like to have a picture there and buy some souvenirs to her. It was already afternoon and it was a sunny day and really warm weather! But it was not a problem to us! We still walked a lot to visit Castel Sant' Angelo, which was the mausoleum of Hadrian, another Roman Emperor, and again, it was amazing and magic!
That was a long walk day, of around 20-30 km, we were completely tired, but our minds were flying!
After that, we packed our things and went to the rental car, because we would drive a long way to Amalfi! Bye, bye Rome, see you really soon!
Amalfi Coast and Pompeii
We rented the car, a Fiat 500L, and drove to Amalfi, around 300 kilometers. I love driving, so we decided we would drive there. After 4 hours driving, we arrived in Amalfi Coast, and the roads were really narrow and sinuous. If you want to go there by car, watch out!
We booked a house in Amalfi, with the view to the sea. When we arrived, we had to go down more than 100 stairs and we arrived. The view was completely stunning! And the house was completely renewed. When telling the cons, I would say the access is not easy and there was no Internet connection. But the rest was amazing! We were completely tired, we went to sleep watching the sea and the moonlight, what an amazing view!
The next day we woke up really early, to go to Positano. On the way to Positano, we stopped for breakfast, with a view to the sea! And 15 minutes after, we went to Positano. Positano is a charming town, with colorful houses stucked in the mountain. We left the car on the road, few kilometers away from Positano, because it is really difficult to find a parking lot there. Arriving in Positano, we went to the beach and another surprise: to stay there, you have to pay! And it is not cheap, but OK, we were expecting to spend a lot of money there, since it is a trendy city. We paid and stayed there for some hours, just chilling and swimming on that crystalline water and we met a Brazilian couple!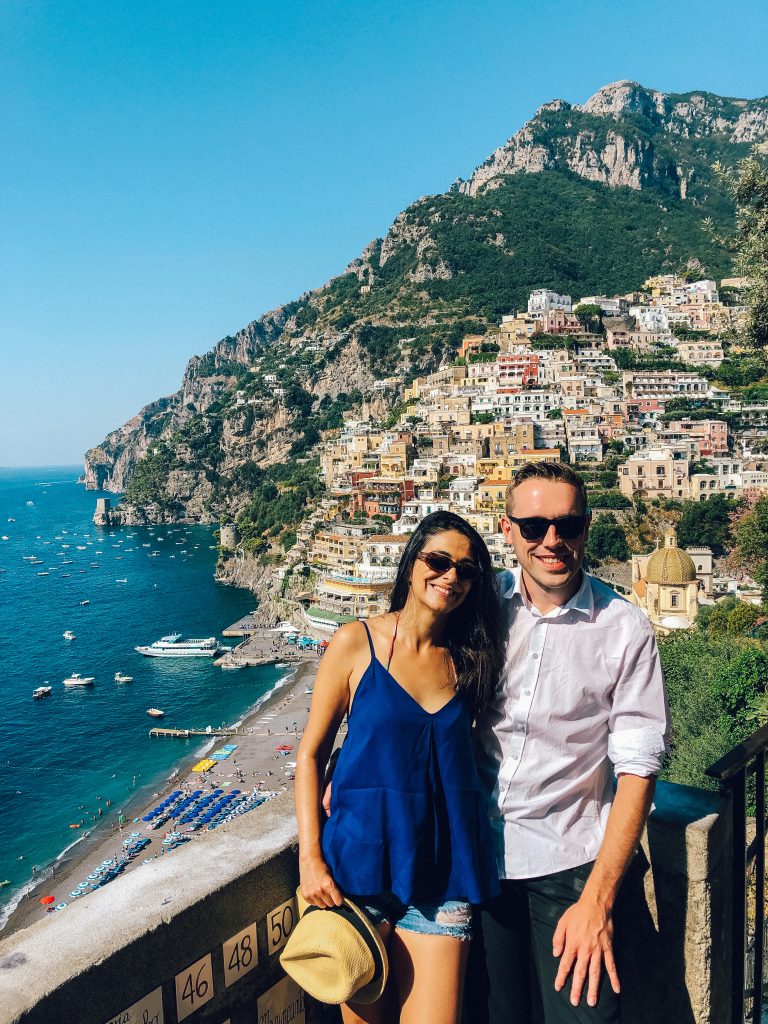 We decided to drive to Pompeii during afternoon, to visit the village, which was buried under 4 to 6 m of volcanic ass and pumice in the eruption of Mount Vesuvius in AD 79. We spent the whole afternoon there and we could see really interesting things in the ruins, such as, buried dogs and people and paintings in an ancient nightclub! As I was feeling pain in my spine, I decided to get back to the entrance and Matej continued to explore. But he got lost and arrived hours after, completely sweaty! Hahaha
The next day was the most expected. We booked a boat to visit Capri! So we met our sailor in the morning and we started our trip to Capri! Capri is an island next to Amalfi Coast, where famous people like to go for resting. For instance, Sophia Loren has a house there; Audrey Hepburn and Grace Kelly loved that place and Tiberius, during ancient time, spent the last ten years of his life there and built some villas there. Not counting that it is said that it was the place of banishment for the wife and sister of Commodus! During that day, the sea was not so calm and trip to Capri was an adventure. Our sailor, Marco, stopped the boat twice for us to swim a bit, but, at that time, I couldn't swim, so I stayed in the boat while Matej was swimming and exploring caves! It was an incentive to come back to Brazil and start to learn how to swim! After some hours in the boat, we arrived in Capri, but it was 100 euros per person just to enter the island! So we decided to go to an island next to Capri to have lunch. Meanwhile, we took some pictures and we passed by the famous Love Arch! More three hours on the boat and we returned to Amalfi and it was almost sunset already!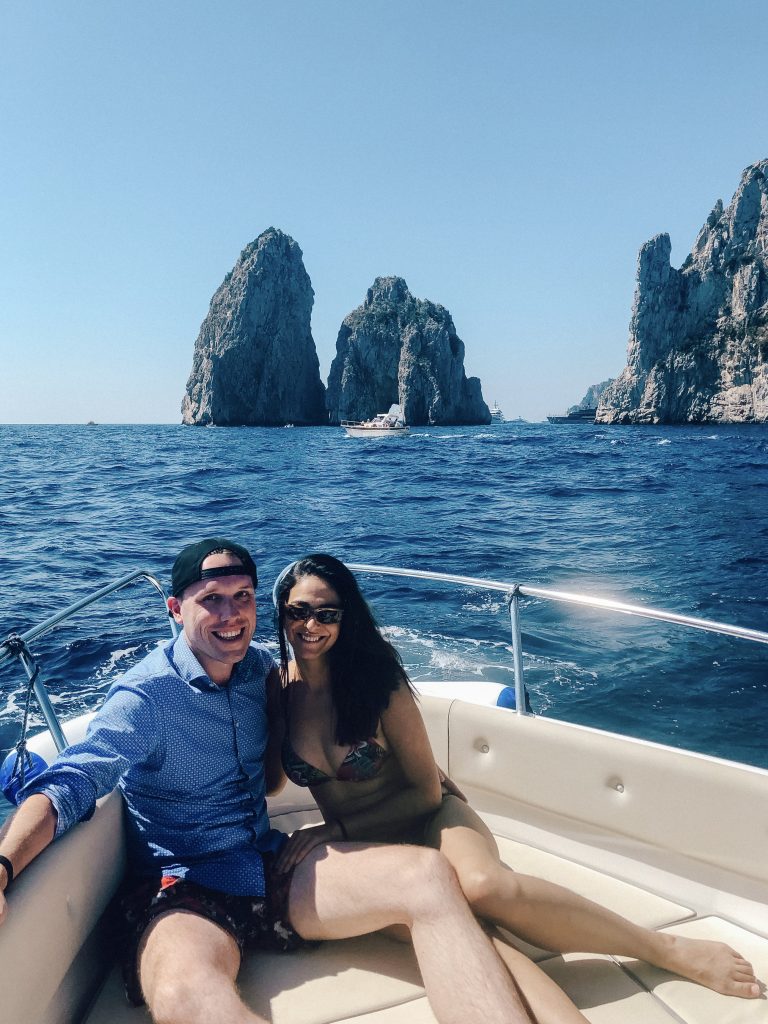 We arrived at home, packed our things and decided to have dinner before leaving that lovely city! We found a restaurant, really nice one, with delicious food and wine, and, the most important at that time, it was completely affordable! The restaurant was Ristorante Le Bontà Del Capo and I would like to return there one day!
I was so sad, because this fabulous trip was in the end and I would like it could last forever. But we had many other trips to go and the "show must go on", as Freddie Mercury would say.
That is my experience in Italy and I will write more posts saying about the places we visited, the restaurants we went and etc.
See you soon,
Debora