Trip Planning
We decided to go to Ushuaia and El Calafate during December because weather is quite mild with occasional rain. Temperatures are usually 10 – 15 degrees during the day which is very pleasent for the end of the world. On the other hand, no forecast can predict weather conditions in southernmost corner and very often you can experience everything in one day so be ready to layer your clothing properly in order to take it off or on according to the situation outside.
For getting there we flew with Aerolíneas Argentinas. I have to say that me and Debora had quite high expectations of them but they fell short. Flying for the first time with them we weren't that much satisfied. We flew from São Paulo to Buenos Aires and then from Buenos Aires to Ushuaia. They did not offer any meal and we had to survive with snacks only. The whole flight took almost the whole day due to the fact that to Ushuaia there are no international flights and you can only use the national ones which means that you have to switch airports in Buenos Aires. Be ready that Ezeiza International Airport is a huge mess. Definitely count with some buffer to get to the national airport on time. We recommend to use the shuttle service TiendaLeón between airports because it is for free when you use Arolíneas Argentinas.
First we flew to Ushuaia where we picked up the most beautiful locations like Tierra Del Fuego, Beagle Channel, off-road experience to see amazing panoramic views on the lake Fagnano and we also did a small hike to the laguna Esmeralda.
In the second part of the trip we moved to El Calafate by airplane and discover a beauty of glaciers and pristine mountains with a breathtaking highlight Torres Del Paine.
We booked all travels in advance via the Brazilian agency Descubra Turismo but to be honest other agencies do the exact same trips so you won't miss anything by booking a different one. In our case it was quite good not to do everything on our own because of the nature of the trip. As we travelled to Patagonia for the first time, we wanted to see as many beautiful places as possible in a time frame we had.
The Costs
It doesn't matter if you do the trip on your own or you will use some agency like we did, be prepared to spend a lot of money even if you are on a budget. For some reason Patagonia is very expensive. In comparison with other South American countries like Chile or Brazil, the whole Argentina is totally over budget. We don't know why but we think that high costs are partially caused by their dire economic situation. We spent almost 5k USD for the trip.
The Accommodation
In Ushuaia we stayed at the hotel Mil810 which was quite decent with a very nice breakfast. In El Calafate we were at the hotel Bahia Redonda with breakfast included as well. Both hotels are quite cosy and affordable and they are not located far away from city centers. You have everything within easy reach and you don't have to wait much for any pick-up.
Day 1 – Ushuaia – the southernmost part of the world
In the very first day take your time to discover the city Ushuaia. Still, there should be enough light because in the southern part of the world , days are very long and the sun goes down around 11 pm which is really nice because you can use daylight to your advantage. On the contrary, it can cause you stay up a bit longer and you can get tired easily.
Less than a day is completely sufficient for the city. Walk through the main street Avenida San Martin to get the full picture of the surrounding. There is nothing special to see, just shops everywhere and packs of tourists going to all directions. You can go to the sign of Ushuaia to take a kitsch photo or to take another photo with the official board saying "The end of the world". Yeah, you made it!
For prison lovers Ushuaia offers Museo Marítimo y del Presidio de Ushuaia in the former prison where you can visit the maritime exhibitions of all kinds. Long time ago Ushuaia was a place where you wouldn't like to end up as a convict because there was no way back and no escape was possible without big chance to die. A lot of people say not to miss this one but …
Day 2 – Ushuaia – Tierra del Fuego – The End of the World Train and the Beagle Channel
In the morning take the half-day tour to Tierra del Fuego. You will hear stories about an ordeal of prisoners who had to cut trees 24/7 and how happy they were to do it because it was the only way to stay warm. The tour has some nice highlights with many breathtaking views on mountains. You will feel overwhelmed by spectacular nature. Every scenery is a bit different due to crazy weather that changes between rains and blue skies almost every minute.
All tours are usually the same so you won''t probably miss The end of the world train. I have to say that me and Debora we wouldn't probably take it but what else to do there. All agencies are quite clever and they gave you two options: to take the train and enjoy a small ride with a view on meadows where prisoners were cutting trees or to stay at the station and wait. As this trip doesn't take much time , it would be a pity not to use the second half of the day after your return to Ushuaia!
To use your time at maximum we recommend to take a boat trip and sail through the Beagle Channel in the second half of the day. You will see an incredible natural beauty and the wonders of the channel like birds, sealions and penguins. If you are into penguins , book a tour to the Martillo Island months before your departure to Ushuaia. It is a home of a whole colony of Gentoo and Magellanics penguins. Unfortunately we didn't visit the island but we heard it is worth every dollar! You will literally see as many penguins as possible and you will get a chance to walk with the colony.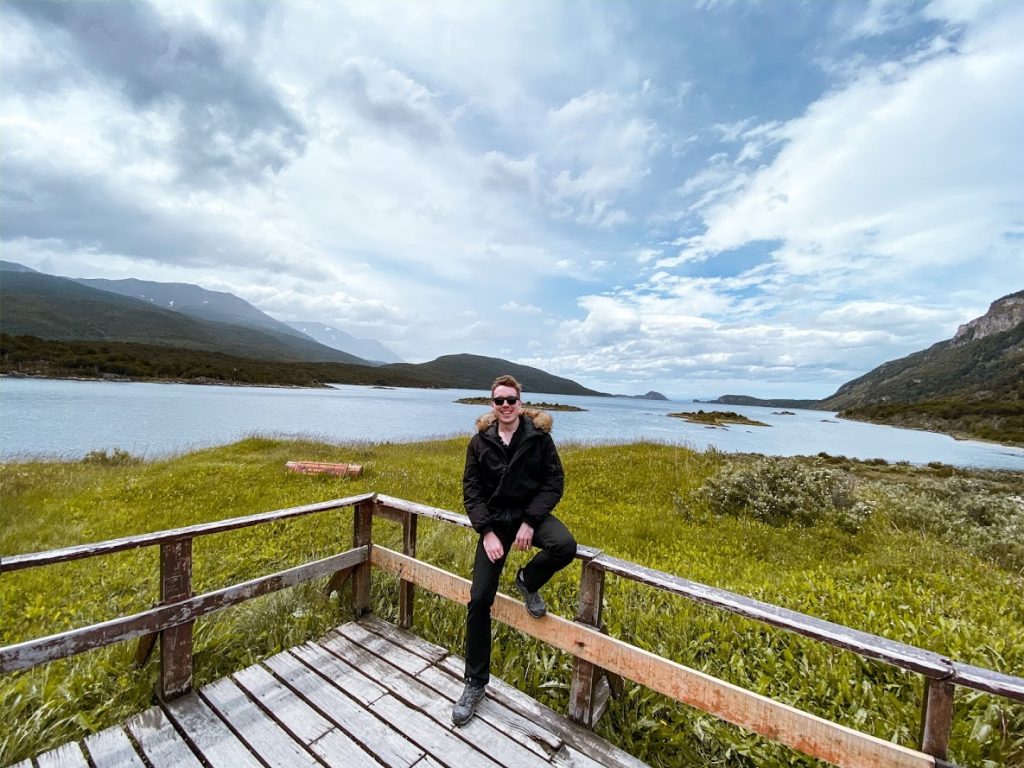 Day 3 – Ushuaia – off-road experience
Jump into the off-road which will take you on an adrenaline adventure to the lake Fagnano through Paso Garibaldi. The whole way will take you to the crossing over the Andes Range with a wonderful opportunity to take nice pictures of the Paso Garibaldi which offers breathtaking views on the lake Escondido and Fagnano where you go. After a short break the off-road turns left on the road to the forests where a true off-road adventure begins. After some time the car will arrive to the big pond called Fagnano. It is just huuuge and views there are yet again breathtaking, the lake is definitely worth seeing. There also is a strong wind so be ready to take the best wind jacket you have. All agencies doing this trip have a nice place near the lake where you will taste yummy Argentinian asado (bbq) including their famous Aniello red wine. We recommend to take a cup of wine and go to the lake for a short walk to explore its vicinity. After your return to Ushuaia in late afternoon, you can spent the rest of the day in the Dublin pub with a beer or two.
Day 4 – Ushuaia – laguna Esmeralda
Make the last day special in the southernmost corner of the world and do the most popular hike around Ushuaia – Laguna Esmeralda. The hike is definitely easy one and it only takes 2 hours to reach the laguna and less than 2 hours back (as you are faster and more familiar with the path). You don't have to be worried about getting lost. The way is nicely marked and even if you go without a group you can't get lost. The trip starts in the Lenga forest and once you get out, you reach the Carbajal Tierra valley with one of the largest peat bogs in South America where the fun begins! Peat bogs usually are very sticky and wet. They can also be very deep. If you don't follow the right path , you can easily lose your shoes, exactly the same happened to us several times, ha ha ha. After the valley , another forest follows and yet again you will meet spongy peat bogs. This time the last ones before you reach the incredible Laguna Esmeralda! The view of the laguna is just beautiful (if you are lucky and weather is nice to you). The laguna has its name because of emerald pure water from the the Ojos del Albino glacier. The muddy way back is much more easier. If you are in love with camping, we also saw a lot of camp spots near the laguna, it must be amazing to stay there overnight. After your return to Ushuaia, head to the north by an airplane to El Calafate which in our opinion has only the best highlights of all from Patagonia.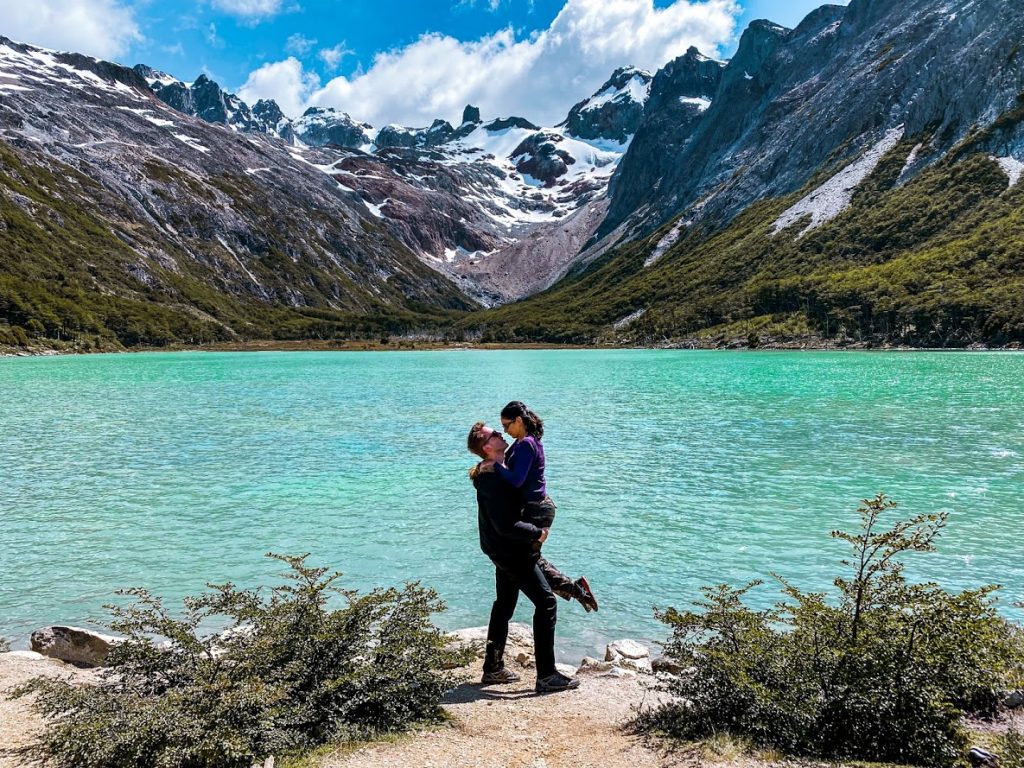 Day 5 – El Calafate – Glacier Perito Moreno
The city El Calafate has the same problem like Ushuaia, it doesn't offer anything special except of variety of restaurants and venues where to spend your time bragging about your adventures. The city is also full of agencies offering all kind of tours and trips. We can't stress more to book everything in advance not to lose time with checking whether you can or cannot go somewhere because you booked something late.
Your first choice of the trip should be the amazing marvel of the nature – Glacier Perito Moreno which is located 80 kilometers from El Calafate. This one is absolutely MUST-SEE. You will see what we are talking about once you get there. The Glacier Perito Moreno is one of the largest glaciers in South America. The glacier is 5 kilometers wide and tens of meters high. The size is twice as Buenos Aires. The most beautiful wonder of the nature has even more to offer. Time to time you can observe ruptures when pieces of ice collapse into water. It is pretty spectacular. We also recommend to take a small trek to climb the glacier. Unforgettable experience!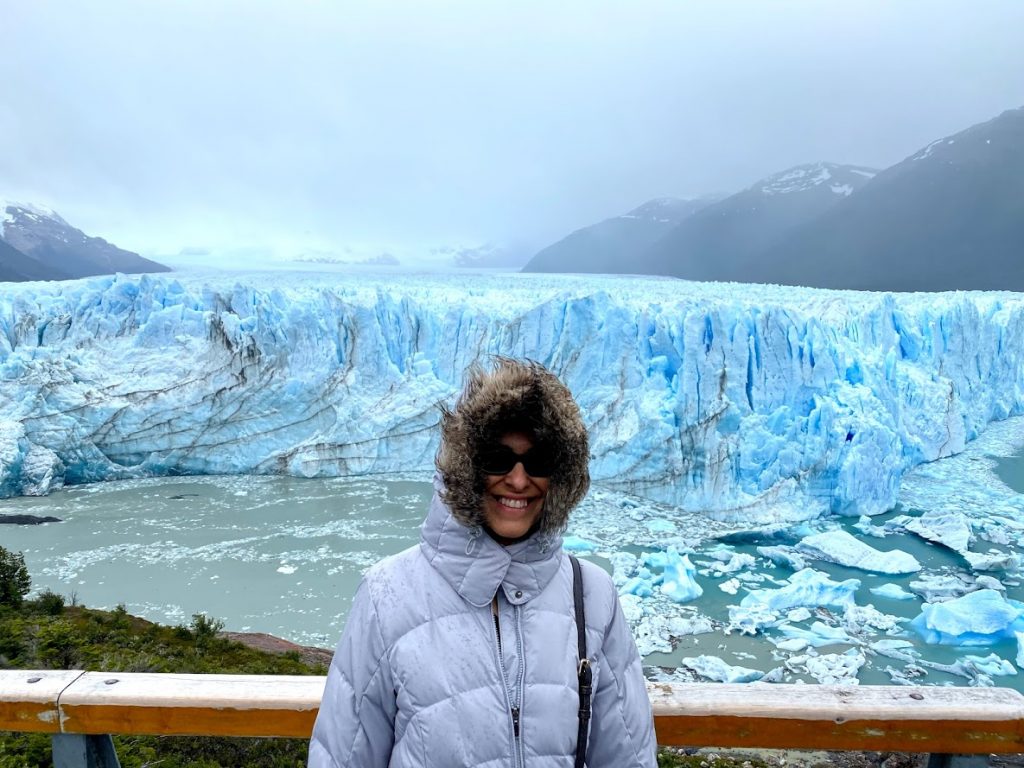 Day 6 – El Calafate – Torres Del Paine
Spend your last day on the tour to the famous Torres Del Paine. The trip will take you from Argentina to Chile for a moment. Be ready to spend some time in the shuttle as it takes up to 4 hours to get to the Torres Del Paine national park. Don't forget your passport because you will cross the borders to Chile (for residents of Mercosur countries you only need your ID). The Torres Del Paine national park is considered the most beautiful park in the world. Visit all its highlights including Salto Grande where you will have a magnificent view of Cuernos Del Paine or the French Valley. The same road will lead to one of the most beautiful views of Torres Del Paine. We would only like to warn you that weather is legendary in the park with extreme winds up to 180 km/h and a lot of rain. Also, Torres Del Paine are nicely visible only every 20 days (still worth the risk!). During summer temperatures average around 13 degrees and during winter they drop to between 5 and -3 degrees. To prepare yourself properly you can check weather conditions HERE.